Bank: Falling house prices mean buying a home is now cheaper than renting
The average cost of renting a three-bedroom home is 7.4% more than it would be to buy.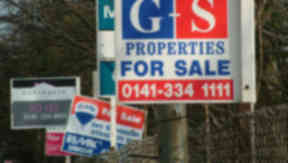 The average cost of buying a home in Scotland has become cheaper than renting, according to researchers.
Analysis by Bank of Scotland shows that the average monthly costs associated with buying a three-bedroom house stood at £505 in June 2012, 7.4% lower than the typical monthly rent of £545 paid on the same property type.
Over the past year, buying costs have dropped by 6% while the cost of renting has increased by 1%.
Costs have fallen significantly for buyers from 2008, when average monthly home buying costs stood at £911 compared with an average monthly rent of £561.
Average monthly buying costs include mortgage payments, insurance and household maintenance and repair costs, and take into account the cost of funding a deposit instead of saving it and earning interest.
The improvement in affordability of buying has been attributed to a marked fall in both house prices and mortgage rates.
The average mortgage rate for new borrowers has fallen by more than two percentage points over the last four years, from an average of 5.91% in June 2008 to 3.82% in June 2012.
Over the same period, the typical Scottish house price has decreased by almost 18%.
Despite this, the number of buyers in the Scottish housing market has nearly halved over the last four years, driven by the economic uncertainty and the size of the average deposit required.
Nitesh Patel, housing economist at Bank of Scotland, commented: "It is clearly encouraging that there has been a significant decline in the cost of buying a home for those able to enter the Scottish housing market since 2008.
"The improvement is due to a combination of lower mortgage rates and declining house prices.
"In contrast, market conditions for renters have deteriorated slightly as rents have risen in the past two years.
"Despite the improvement in buyer affordability, housing market conditions in Scotland remain difficult.
"Those getting on the housing ladder still face challenges, most notably in getting a deposit, and this challenge, along with the considerable uncertainty regarding the economic outlook, is still contributing to subdued housing demand.
"However, it is worth noting that once homebuyers are on the housing ladder, their monthly costs are notably lower."