NHS spends almost £4m on hospitality in last three years
Labour accuses the Scottish Government of wasting money that could be spent on the frontline.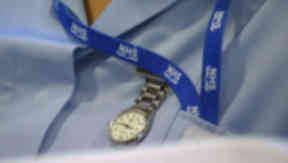 The NHS spent almost £4m on hospitality for staff and visitors over the last three years, it has been revealed.
Official figures obtained by Labour under freedom of information laws show that hospitality costs increased by almost 25% in the last three years, from £1,076,044 in 2007-08 to £1,332,501 in 2009-10.
The Scottish Government said hospitality accounts for a "tiny fraction" of NHS spending and has not changed much over the last three years.
However, Labour health spokesman Dr Richard Simpson said he was "astonished" that Scottish health boards had spent so much.
"I want to see the NHS using its resources to employ nurses and midwives, rather than entertaining people," he said.
NHS Greater Glasgow and Clyde had the highest hospitality bill last year at £329,000. NHS Tayside spent £317,805 on hospitality and NHS Fife spent £269,824.
Dr Simpson said: "The money that is currently being spent on hospitality should be going on the front line.
"It could pay the annual salary and staff costs of 50 nurses. I am sure that most people would agree that this would be a far better use of resources."
But a Scottish Government spokeswoman said: "Health board spending on hospitality has remained broadly similar prior to 2007 and represents a tiny fraction - around 0.01% - of NHS Scotland's total budget of more than £11 billion in 2009-2010.
"Health boards must ensure they get best possible value for money for every pound they spend.
"Hospitality is typically limited to providing tea, coffee and sandwiches for lunch or evening meetings or at events where members of the public and health board volunteers are present."