Strip club application rejected 'for the protection of children'
Councillors refuse application for adult entertainment licence after lengthy debate.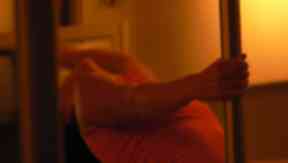 An application for a new strip club in Aberdeen has been unanimously rejected by councillors.
The owners of Shooters, a snooker hall on Chapel Street, had applied for a variation of its licence to allow adult entertainment and dance facilities for a separate business area called Silhouettes.
The application had attracted a number of objections from local residents as well as from a neighbouring night club and a strip club.
If the application had been approved, Aberdeen would have had eight strip clubs – more than any other city in Scotland and the same number as currently operating in central London.
Councillors took almost two hours to reach a decision at Tuesday's licensing board meeting but eventually agreed with convener Marie Boulton to reject the application on the grounds of protecting children from harm.
Objectors to the proposal had complained about the overprovision of lap dancing clubs in the city centre, with one local resident claiming Aberdeen would become a "mini-Amsterdam" if Silhouettes was given the green light.
Afterwards Councillor Boulton said: "We can understand how anxious people are with the number of adult entertainment properties there are in Aberdeen.
"We had to make sure we had a robust case for refusal and we felt there hadn't been due diligence in considering the effect of the amenity on the local children at schools, churches and youth groups. We felt that had been completely missed by the applicant and we felt to refuse on those grounds was quite significant.
"We are very pleased with the decision we have made. We have a duty to protect our young people."
Cllr Boulton added: "The statistics were quite alarming. We would have been on a par with London for clubs such as this had this gone ahead. When you look at that per head of population I think it sends out the wrong message for Aberdeen."
The applicant said the club would have been a "well run and respectable establishment" which would have offered burlesque dancing workshops for women's groups.
Applicant Grant Wiseman said: "We are disappointed with the decision. Once we get the statement of reasons for refusal from the board we will consider our options.
"If there wasn't a demand for clubs like this in Aberdeen then we wouldn't be looking at it. There is a demand for well-run premises of this nature. We were approached by women's groups wanting to do burlesque workshops and at the end of the day it is all a bit of fun."