Former Rangers owner Craig Whyte gets his Bentley back after court seizure
Kim Whyte had applied to have the 1996 car seized from the former family home.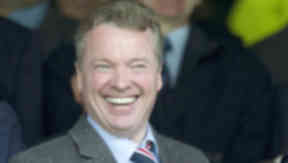 Former Rangers owner Craig Whyte will get his Bentley back after it was seized by a court in a dispute with his estranged wife.
Mr Whyte's wife Kim had the car taken from him for the vehicle to be sold at auction to settle thousands of pounds worth of aliment due to her.
However, the sale was blocked last month by one of Mr Whyte's companies, Liberty Corporate Ltd, the sole director of which is his father Tom.
On Wednesday, Sheriff Margaret Neilson was told at Inverness Sheriff Court that both Mr Whyte and his estranged wife had reached a deal and she allowed for the car to be returned to the man who bought an 85% stake in Rangers for £1.
In July, it was revealed at the court that information had been received that "a couple of heavies" were coming on behalf of Mr Whyte to retrieve the 1996 vehicle, which was expected to fetch around £20,000 at auction.
But Sheriff Philip Mann heard a sheriff officer from Scott and Co in Inverness had the vehicle uplifted from Mr Whyte's Castle Grant home in Grantown-on-Spey, in Moray, and removed to an unknown secure location.
Mrs Whyte, 42, had previously successfully applied to the court to have an 'attachment' put on the car, to recover the vehicle in pursuit of the unpaid debt. The attachment prevented her husband of 12 years from disposing of the vehicle.
In previous court hearings in their dispute, it was revealed that Mr Whyte had failed to pay his wife several £5000 monthly instalments which formed part of their separation agreement.