Meteor shower lights up skies above Scotland
The Perseids meteor shower reached its peak with a spectacular display over much of the country.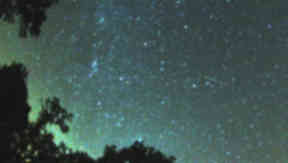 One of the year's astronomical highlights lit up skies above Scotland as the Perseids meteor shower reached its peak.
The shower meant as many as 60 shooting stars an hour being seen in the night sky. The shower was set to peak in the early hours of Friday morning.
Astronomers reckon that this year's event may have been the most spectacular for years. The moon set early in the evening meaning that it was not so bright that it washes out faint meteors in the dark sky.
However, being able to see the phenomenon depended on there being clear skies overnight.
Speaking before the evening, STV's weather presenter Sean Batty cautioned: "The wind will be coming from the north and north-east which means that the best breaks in the cloud will be down across central and southwestern areas.
"The north and northeast of the country will be plagued by large amounts of cloud and therefore are unlikely to see any of the heavenly fireworks.
"The best spots are likely to be Dumfries, Ayrshire, Argyll, Glasgow, Lanarkshire, Renfrewshire, Inverclyde and again Stirling - which of course had the best view of the Northern Lights last week.
"The meteors will be more visible in areas far from streetlight and other artificial sources of illumination, meaning that much of Scotland outwith the towns and cities could have an advantage when it comes to seeing the sight.
IN DETAIL
STV's Sean Batty was tweeting about the meteor shower on Thursday night. Follow him at here on the Twitter website
Did you get any pictures of the Perseids meteors? Send them to us and we will publish the best.