Chief of Scotland's single police force warns 3000 jobs could be cut
Stephen House was named as the new single force chief this week.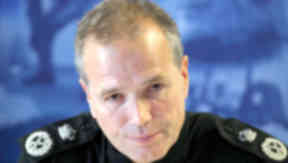 The first chief constable of Scotland's new single police force has said the merger could mean the loss of up to 3000 jobs.
Stephen House, 54, who is the current chief constable of Strathclyde Police, also said being offered the top job is the "pinnacle" of his career.
He spoke about his new role, which he will take up later this year, at the Scottish Police College in Tulliallan, which will be the interim headquarters for the Police Service of Scotland.
Mr House said there could be "many, many hundreds" of support staff jobs lost as the country's eight forces are merged and agreed with "up to 3000" as a potential figure.
He added: "It's difficult to be precise at this moment in time, because calculations are still being made and it depends on a lot of different factors. I would stress that the plan and the expectation is that much of this will happen through voluntary redundancies and early retirement packages.
"The government has said, and I think it's quite right, that we're not keen on the idea of compulsory redundancies, so we would be looking to identify jobs where there was some duplication, where we didn't need to do that work any more, and either redeploy those staff into other jobs or see if they wanted to take a voluntary redundancy package or early retirement.
"So, it's something that will be done in a co-operative and compliant way, working with the unions representing the workers."
Scottish Labour MSP Lewis Macdonald said the figure of job losses is "devastating confirmation" of what staff "feared for so long".
He added: "Now the new Chief Constable has confirmed 3,000 jobs are to go, before he has even started work. The question for Kenny McAskill now is how does he intend to lose half of all the civilian staff? Will it be through compulsory redundancies or will it be through contracting out?
"The SNP's hidden agenda has been cruelly exposed. Cutting thousands of civilian jobs will mean thousands of police officers behind desks, managing cells or staffing phones, when they should be out on the streets, tackling crime."
Mr House will be paid a salary of £208,000 when he takes up the new post but believes he is "worth it". He said: "I do believe I'm worth it. Time will tell, but that £208,000 wasn't decided by myself. It was decided by a fairly precise procedure of what other people are paid in similar-sized organisations.
"It's probably at par with that level for the size of the organisation."