Sharks ruled out in mystery 'corkscrew' deaths of seals
Dozens of seals have been found dead in Scotland and elsewhere with unexplained injuries.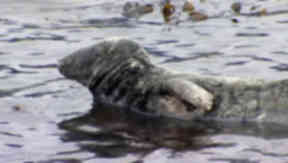 Sharks were ruled out as the killer of dozens of seals found in and around Scotland with unexplained "corkscrew" injuries.
Around 50 carcasses of both common and grey seals have been washed up in the past three years with a single, smooth-edged cut starting at the head and spiralling around the body.
The injuries were not consistent with any known to be potentially caused by fishing nets of boat propellers leaving marine experts still baffled by their mystery deaths.
In the past three years, 38 seals on the Norfolk and North Lincolnshire coast and a further 12 around the Firth of Tay and the Firth of Forth have been found with the deep, deadly wound.
The issue was publicised at the weekend and since then Callan Duck, of the Sea Mammal Research Unit at St Andrews University, has been following up possible leads raised by members of the public.
One theory was that a species of shark not usually seen around Britain could be the culprit.
But Mr Duck said he had now heard from experts at the International Union for Conservation of Nature who have ruled out sharks.
Mechanical mystery
He believed the cause was mechanical, but remained baffled by the nature of the machine which killed the mammals.
"We have had a lot of suggestions from a lot of different people for which we are really grateful and we would like them to keep coming," he said.
"We are biologists, we are not forensic scientists. It's all under water, out of sight, so how do we find out what's happening? We are pretty flummoxed."
Mr Duck, a senior research scientist, said that once the cause has been determined, tests would be carried out in labs on dummies to see if the problem could be avoided.
As it is, the corkscrew cuts are having a serious effect on the tiny Firth of Tay colony, with around 10% of breeding females being killed by the mystery.
Seals, though inquisitive when they are young, have a canny sense of danger, Mr Duck said, so the way they were dying was even more puzzling.
"Almost all the injuries we have seen have started on or close to the head. The seals must be attracted to whatever it is that proves fatal to them.
"Seals are very canny and know what's bad for them. They don't go near things that are questionable or could be dangerous and they are very aware of propellers.
"Why are seals going to something that could kill them, perhaps sucking them in and leaving them unable to get away?"
IN DETAIL