Children with cancer to receive help from online videos
A new series of films unveiled in Edinburgh will help young patients understand what will happen when they go to hospital.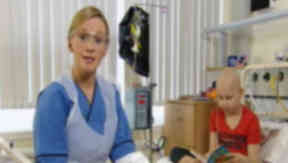 Children who are diagnosed with cancer can now use a series of short videos to help them understand the process of treatment.
The clips, created for Youtube by the Children and Teenagers Scottish Cancer Network (CATSCAN), were unveiled at Edinburgh's Sick Kids Hospital on Wednesday by Health Secretary Nicola Sturgeon.
The six two-minute films are designed to put children at ease by explaining what happens when they go into hospital.
The films each focus on a different theme, including chemotherapy, operations and going for a scan and have been designed for use by kids aged 10 to 12.
Iona Mills from Edinburgh, is one of the patients featured in the films. The 11-year-old was diagnosed with acute myeloid leukaemia in July last year and underwent four courses of chemotherapy at the Royal Hospital for Sick Children in Edinburgh. She is now in remission, but said the films could have been very useful when she was diagnosed.
She said: "Although the staff in the ward were very friendly and helpful, I still found it quite frightening when I went into hospital. I think these films will help other children who are getting treatment because it will show them what to expect when they go into hospital."
Dr Hamish Wallace, from CATSCAN and NHS Lothian, said: "This is an exciting development which was initiated by the parents and families who are members of our network.
"When we first started looking into this project, I was surprised to find that there was nothing like this which was readily available to help prepare children for coming into hospital for cancer treatment. It is so important to allay children's fears by telling them exactly what is going to happen when they go for a scan or go for treatment.
"This project is the first of its kind in Scotland, and we hope that in the future it could be rolled out through the rest of the UK."
Nicola Sturgeon, Cabinet Secretary for Health and Wellbeing, added: "It's important that anyone going into hospital has as much information as possible about what to expect. That's particularly true for people undergoing potentially lengthy cancer treatment, especially children.
"That's why I'm confident these short films are going to make such an important contribution. They de-mystify the whole process for children at a time when they may be frightened or confused. Being available through YouTube also means they can be found on a medium young people tend to be very comfortable with. I'm sure children and their families will find them very useful."