Patient pulled from burning ambulance after it burst into flames
The patient was being taken from a hospital in Stirling to Edinburgh when it caught fire on the M9.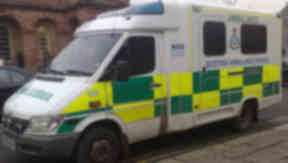 A patient had to be pulled from a burning ambulance after it burst into flames on a motorway on the way to hospital.
The adult patient was being transported along the M9 from Stirling Royal Infirmary to the Western General in Edinburgh on Sunday when the incident happened.
A doctor and nurse, who were also in the vehicle, along with the ambulance crew, had to pull the patient on to the hard shoulder, close to the junction of Boroughmuir junction about 10.30pm.
They continued to look after their patient as traffic sped past the burning vehicle. A replacement ambulance was sent out by the Scottish Ambulance Service (SAS) and the crew was able to continue its journey to the hospital.
The fire is thought to have been started by an engine fault, with compressed oxygen on board causing the flames to spread rapidly throughout the vehicle.
Ambulance chiefs said they were now carrying out a full investigation into the incident. The ambulance was completely destroyed by the fire.
It was initially taken back to the SAS depot in Falkirk, but was later removed on a low loader for a full investigation into how the blaze could have started.
£100,000 damage
It will cost £100,000 to replace the vehicle and all the medical equipment on board.
A spokesman for the SAS said: "There was a patient on board the vehicle, accompanied by a doctor and a nurse from Stirling. The vehicle developed a problem and then caught fire. The patient was removed from the vehicle.
"When this information was passed on, we immediately sent out a replacement. The patient and crew were transferred and continued the journey to the Western without any problems.
"Thankfully no-one was injured and the patient suffered no adverse affects as a result of this."
A Central Scotland Fire Service spokeswoman said: "The fire investigation showed there was a fault in the engine. This is where the fire started, and because the ambulance was carrying compressed oxygen it caused the fire to spread rapidly.
A spokesman for the RAC said they were aware of similar instances involving ambulances but believed they were rare.
This year an ambulance in the Cotswolds and one in Northern Ireland burst into flames while on 999 callouts, and two years ago the Welsh ambulance service launched an inquiry after three of its vehicles caught fire.