Two thirds of Scots students skip meals or turn off heating to avoid debt
Students in Scotland expect to graduate with a debt of £12,500 and go to extremes to save money.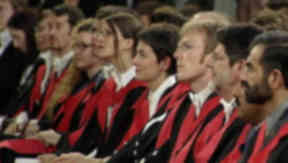 Around a third of students would consider living at home or skipping meals to cut costs while they are at university, a poll has found.
The survey, carried out by YouGov for the Money Advice Service, said on average, students in Scotland expect to graduate with a debt of £12,500.
The figure is more than half the UK average of £23,700 — despite the fact Scottish students do not have to pay tuition fees at institutions north of the border.
The research showed that 31% of students polled would consider living at home to avoid accumulating too much debt, while 28% said they would consider skipping meals and 35% would switch off the central heating.
Over a quarter (26%) would avoid buying course textbooks and 18% said they would consider trying to sell off valuable items to raise money if they had too.
For Scottish students, the most common debt taken on during their university years is a student loan, with 69% of students and graduates having taken out at least one loan.
More than a quarter (28%) are borrowing money from family members, according to the survey, while 31% have an overdraft and 15% use credit cards.
The research said that almost half (47%) of students are worried about the levels of debt they will leave university with, and 32% of graduate respondents said they wish they had managed their money more carefully while studying.
However, the Money Advice Service said it is possible to control debt with careful money management and planning.
The service, which aims to help students make the most of their money, said it has a range of tools to aid budgeting, including a Cutback Calculator and Money Stretcher, both of which can be found online at moneyadviceservice.org.uk.
Karen Broughton, a director at the Monday Advice Service, said: "Debt is now a normal part of university life, but with careful management it needn't be a worry for current or prospective students.
"Whether living at home or moving away to study, students have to make major choices about budgeting and banking.It's vital to get the right advice before taking on debt and make plans to get a grip on money matters. Otherwise uncontrollable debts can become very expensive to pay off long after graduation.
"To maximise their income as much as possible, we urge students to take advantage of the handy tools on our website — such as budget planners and calculators like our Money Stretcher and Cutback Calculator which can quickly highlight where you can make everyday savings."
Phil Davis, chairman of the National Association of Student Money Advisers, said: "It's really important that students are fully aware of all options for funding available to them, including student loans, to ensure they maximise their income during study.
"Funding from the Student Loans Company is preferable to other forms of credit because of the flexible repayment terms, which take account of personal circumstances.
"Maximising income is important, but it is equally important for students to develop their financial capability — many universities offer confidential money advice which can range from budgeting tips, to managing debts."