Scottish Green party votes to join pro-independence Yes campaign
Patrick Harvie took a swipe at the SNP's NATO U-turn as his party formally endorsed the Yes Scotland campaign.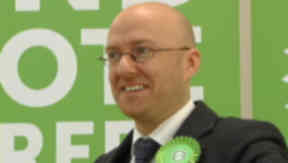 The Scottish Greens have formally endorsed the cross-party Yes Scotland campaign for independence.
Delegates overwhelmingly backed the movement at the party's conference in Glasgow, just over four months since the campaign was launched.
Urging members to make a "judgment call", Green co-convener Patrick Harvie said the movement is not dominated by Nationalists.
"Yes Scotland has evolved into the sort of organisation it should have been from day one," he said.
He added: "Today's decision ensures that Greens take a front-row seat in this exciting debate, promoting fresh and radical ideas on Scotland's future. Greens are not nationalists, and we're not motivated by devotion to one flag or the other.
"But we can see huge opportunities to make our country fairer and greener. We look forward to working with Yes Scotland to set out a transformational vision for Scotland's society, economy and environment, and building a campaign to win."
He took a swipe at the SNP's potential policy U-turn over NATO membership, suggesting people who want independence as a way of removing the Trident nuclear deterrent from Scottish waters will be feeling let down.
First Minister Alex Salmond is considering abandoning the Nationalists' historic opposition to keeping Nato membership after a vote for independence. The SNP will debate the change of tack at its conference later this month.
"It has been a bad year for anyone who signed up for the idea of Scottish independence because more than anything else they wanted to get rid of Trident and have no alliance with a nuclear agency in Scotland," Mr Harvie told delegates inside the Maryhill Burgh Hall.
"The idea that we should vote for independence because it lets us join Nato? This to me is an offensive idea.
"The idea that we sign up a nuclear alliance, the implication of which is to ask other countries to deploy nuclear weapons on our behalf, and then have a debate about whether they should be moved from the Clyde is a nonsense.
"Nato is an organisation whose design is about the aggressive projection of power around the world. It is an antique, outdated and defunct organisation, in my view, and I think we should have nothing to do with it."
Mr Harvie told delegates that formally endorsing the movement does not mean having to surrender distinct policies.
"Scottish Greens are more comfortable than most parties with the range of views we know our members and voters hold about independence," he said.
"We won't pretend that it's the solution to every problem, or that it's a disaster waiting to happen. We know the truth is somewhere in between."