Campaign urges smarter shopping as food waste bill hits £1bn
Scottish households are losing an average of £430 each year by throwing away waste food.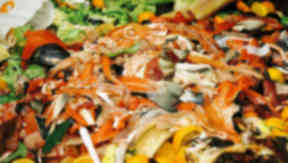 Scottish households are wasting an average of £430 each year by throwing away food, figures have revealed.
And the total cost of all the food and drink wasted annually in the country is £1bn, according to Scottish Government statistics.
A new campaign aims to tackle the problem by encouraging Scots to reduce waste and save money.
Organisers of the Food Waste campaign say that two-thirds of the food and drink thrown away could be used. They are calling on Scots to plan their weekly meals in advance, freeze leftovers and recycle waste food to reduce the amount ending up in environmentally harmful landfills.
Launching the campaign, Environment Secretary, Richard Lochhead, said: "We all waste food but by making a few simple changes to the way we plan our meals, to our weekly food shopping, to using up leftovers and to better storage, we can help our pockets and the environment too."
The minister said that each household could save £35 every month by following these simple measures.
He added: "The new food waste reduction campaign aims to benefit everyone by providing practical help and advice, it seeks to empower everyone to shop smarter, waste less, save more and help create a greener, cleaner Scotland now and for the future."
The Scottish Government has committed to climate change targets of a 42% reduction in CO2 by 2020 and an 80% reduction by 2050. This includes a ban on food waste from landfill by the end of 2020.
Reducing food waste is seven times better for the environment than recycling, but campaign organisers said they realised that in some cases recycling cannot be avoided.
Because of this, food recycling services are being rolled out in towns and cities across Scotland to generate renewable energy and be turned into a fertiliser to benefit Scottish farmers.
The campaign is being supported by local authorities body Cosla.
Councillor Stephen Hagan, the organisation's spokesperson for development, economy and sustainability said: "Councils have demonstrated great progress towards achieving the zero waste vision we share with the Scottish Government, and local authorities are rolling out food waste collection services across Scotland to help communities to recycle unavoidable food waste.
"Good progress has been made but reducing council budgets will come under more pressure to continue this direction of travel. Small steps by individuals to tackle food waste will make continuing this progress an easier task in hard times."
The initiative will be supported by TV advertising, social media and website www.greenerscotland.org which provides support and guidance to help people reduce food waste.
The campaign will also take to the streets with a national information roadshow from October 19, visiting towns and cities across Scotland.