Constitution to ban nuclear weapons in Scotland proposed by SNP
Alex Salmond said a post-independent Scotland should impose a total ban on nuclear arms.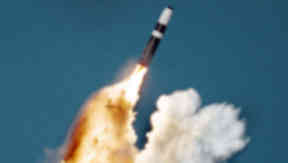 A total ban on nuclear weapons should be written into a Scottish constitution if the country gains independence, Alex Salmond has said.
The SNP said such a move would reinforce the party's "complete opposition" to Trident nuclear weapons in Scotland.
The proposal was unveiled as nationalists prepare to debate plans to abandon their historic opposition to keeping Nato membership after a vote for independence.
Mr Salmond, the First Minister and SNP leader, said opposition to Trident should be enshrined in a written constitution if Scotland votes 'Yes' to independence in 2014.
He said: "The SNP Government will be bringing forward a white paper on independence which proposes a written constitution for an independent Scotland, and that constitution will have to be ratified by the Scottish Parliament elected in 2016.
"The SNP position on this is that the constitution should include an explicit ban on nuclear weapons being based on Scottish territory. This reinforces the SNP's unshakeable opposition to nuclear weapons, and that is the context in which we will debate Nato at the forthcoming party conference.
"The resolution to be debated at conference does make an independent Scotland's membership of Nato conditional on the acceptance of Scotland's non-nuclear status, in line with the vast majority of current Nato members."
Plans by the SNP leadership to keep Scotland in Nato after independence were branded "offensive" by Green leader Patrick Harvie on Saturday.
Opening his party conference in Glasgow, he took a swipe at the policy U-turn, suggesting people who want independence as a way of removing the Trident nuclear deterrent from Scottish waters will be feeling let down.
He said: "The idea that we sign up to a nuclear alliance, the implication of which is to ask other countries to deploy nuclear weapons on our behalf, and then have a debate about whether they should be moved from the Clyde is a nonsense.
"Nato is an organisation whose design is about the aggressive projection of power around the world. It is an antique, outdated and defunct organisation, in my view, and I think we should have nothing to do with it."
The SNP will debate the change of tack at its conference later in October. Members of the No To Nato Scotland Coalition welcomed Mr Salmond's plans for the written constitution, but called on the SNP leadership to "follow the logic of that principled stance" and reject membership of the military alliance.
Leonna O'Neill of Faslane Peace Camp said: "Setting the constitutional framework for the illegality of Trident is a welcome step. The SNP should be applauded for that, but it does nothing to address the issue of Nato membership.
"An independent Scotland will gain nothing from Nato membership other than repeated moral concessions and military demands."