New cancer campaign will show shoppers the dangers of sunbeds
Campaign will use ultraviolet skin scanner to unmask the hidden damage caused by sunbeds.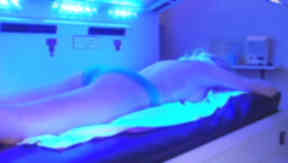 An ultraviolet skin scanner which highlights the risks of sunbed use is to tour shopping centres around the country as part of a new campaign.
The R UV Ugly? campaign will use the machine to show shoppers the ageing effects and hidden damage caused by using sunbeds.
Cancer Research UK, who are launching the campaign in partnership with the Scottish Government, said new figures show that rates of malignant melanoma, the most serious form of skin cancer, have more than tripled among people aged between 15 and 34 in the past three decades, with about 100 people in this age range diagnosed with the disease every year.
It said the rate of malignant melanoma for the age group is now at eight cases per 100,000, up from 2.1 in the late 1970s and higher than the UK average of six cases per 100,000.
About 1100 people of all ages are diagnosed with the disease each year in Scotland, according to Cancer Research UK.
UV rays from sunbeds or over-exposure to the sun can damage the skin's DNA and, over time, this damage can build up and lead to skin cancer, the charity warned.
Jacqui Carruthers, from Bishopton, Renfrewshire, was diagnosed with malignant melanoma in March 2009 when she was aged 29.
She was referred to the dermatology department at the Royal Alexandra hospital in Paisley after a mole on her back began to change colour and became raised.
The 33-year-old survivor believes using sunbeds and being a "sun worshipper" in general were to blame for her developing cancer.
"I used sunbeds because I thought they gave me a healthy glow and, when I had a tan, I would feel better about myself," she said.
"Now I know that a sunbed tan is far from healthy and I can't bear to see people going into sunbed shops, knowing the harm that they are doing to their skin.
"I hope the R UV Ugly? skin scanner gives people an insight into the damage they are doing to their skin and shows them that using sunbeds can eventually make you look old before your time."
Glasgow-born Crow Road and Lip Service actress Valerie Edmond has also given her backing to the campaign.
She said: "It's really important to respect your own skin type and more importantly who you are.
"The idea of harming your appearance by risking your health just doesn't make sense. I hope this campaign will help people in Scotland to say no to sunbeds."
The UV skin scanner will visit shopping centres in Aberdeen, Edinburgh, Glasgow and East Kilbride between October 15 and 28, and people will be offered free scans and consultations.
Vicky Crichton, Cancer Research UK's public affairs manager in Scotland, said: "As the cold, dark nights draw in, we want to ensure that people realise that sunbeds are not the answer.
"Using sunbeds can make your skin coarse, leathery and wrinkly.
"We'd like sunbed users in Scotland to come and take a look for themselves at some of the damage that may be lurking under their skin."
Public health minister Michael Matheson said: "We know that using sunbeds is dangerous, but we are still seeing too many young people across Scotland putting themselves at higher risk of skin cancer through unsafe tanning.
"Avoiding sunbed use really could save your life and that is why this campaign is so important in highlighting how sunbed use can damage your skin and increase your risk of getting skin cancer.
"Jacqui's story shows us that you don't need to use sunbeds regularly to put yourself at higher risk of skin cancer."
For more information on sun awareness, visit the STV Health Centre, brought to you by NHS inform.