Holyrood results 'could face delay' amid poll clash
SNP claims Westminster referendum count will take precedence over next year's Scottish elections.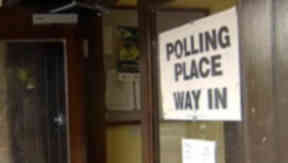 Scotland's election results next year could be delayed because of a UK-wide referendum on changing the voting system.
The SNP has warned that plans to hold the referendum on ditching first-past-the-post for Westminster elections on May 5 - the same day as the Holyrood poll - could mean that the count for the Scottish elections would be held up.
It comes after a briefing note sent to the country's local authorities revealed that the referendum was the "senior" vote.
SNP MSP Bob Doris said: "This could mean that Scotland will have to wait until after all counting is finished for the referendum before we can even start counting the election that really matters in Scotland.
"It was bad enough last time having to wait until Friday evening before finding out who had won, but if we have to have the counting of a whole other election beforehand, who knows how long we'll have to wait."
A UK Government spokesman said: "We have consistently said it makes financial and logistical sense to hold the Holyrood election and referendum together and we believe Scots will have no problem with the two taking place together.
"The Electoral Commission is entirely independent of government, as are its decisions and guidance. The suggestion of a breach in the respect agenda is simply wrong."
An Electoral Commission spokesman said: "No decision has been made on the timing of the count for the referendum. The commission has also not yet issued any guidance to electoral administrators on the referendum.
"Our priority is making sure that everyone that goes to the polls on May 5 can cast their vote safely and easily, whether it is an election, a referendum or both."
Meanwhile, SNP leader Alex Salmond said independence was set to be a "major issue" in his party's forthcoming bid for a second term in office.
He said he would build his party's Holyrood election strategy around the issue, telling a Sunday newspaper: "We will be making the link to the economic crisis and saying if we have economic and financial powers then we can deal, not with all, but with the majority of this economic problem, which otherwise we have to deal with within a fixed budget."
Mr Salmond said he was "unlikely" to succeed in pushing his party's Referendum Bill through the Scottish Parliament next month, but said "the people will have their say" about the issue at the ballot box in May.
A Scottish Labour spokesman said: "This shows the SNP is increasingly out of touch with the modern Scotland.
"As we come to terms with the effects of the recession, as jobs continue to be lost, as firms are struggling, the last thing we need is a SNP government obsessed with separating Scotland from the rest of the UK."