Charity creates 'first job tackling domestic abuse against men'
Abused Men In Scotland appoints helpline manager to improve the support services it provides.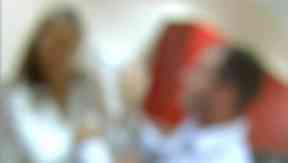 A charity said it has created the first paid job to tackle domestic abuse against men.
Abused Men In Scotland (AMIS) has appointed Aaron Slater as helpline and support manager to increase its support for men who suffer domestic abuse.
Mr Slater will manage volunteers who answer calls on the AMIS phone helpline and work with other charities to improve support for victims.
AMIS said it provides information and support to males aged over 16 who suffer domestic abuse, regardless of their situation. It also aims to raise awareness of the impact domestic abuse can have on men and their families.
The helpline, which operates between 7pm and 10pm every day is staffed by trained volunteers who take calls from victims or concerned friends and family.
Mr Slater said: "It is so important that, as a society, we recognise that domestic abuse does happen to men and it is a very serious issue.
"Men face real barriers to coming forward and asking for help, many of these barriers created by a public narrative that is often reluctant to acknowledge this problem."
The part-time post is being funded for two years by the Tudor Trust, a charitable trust which awards grants to people and organisations for community work.
AMIS secretary Alison Waugh said: "We have worked hard as a group of volunteers over several years to establish AMIS as a recognised source of information and support for men who experience domestic abuse or violence.
"Too often their plight has been marginalised in the provision of support services.
"Aaron's appointment as AMIS's first member of staff is a real milestone and we are confident he will be make a big impact on the range of help available for men in Scotland whose lives have been blighted by domestic abuse."
The AMIS helpline number is 0808 800 0024.