Labour alcohol report expected to reject minimum pricing
Alcohol Commission due to publish its report into how to tackle country's drink problem.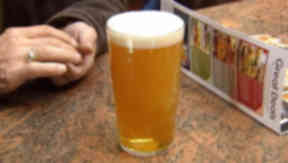 The body set up by Labour to find a way of tackling Scotland`s drink problem is expected to reject plans to bring in minimum pricing.
Party leaders established the Alcohol Commission last year after the Scottish Government announced plans to bring in a minimum price per unit for alcohol. The commission is due to publish its full report this morning.
It is expected to recommend that Holyrood ministers press for a UK-wide approach to alcohol pricing that brings in a ban on selling a product at a price that is lower that its basic alcohol cost, plus duty and VAT.
This would be just one part of a national strategy for action that would focus on changing the culture surrounding alcohol and its misuse.
Commission chair Professor Sally Brown said: "It is essential that Scotland is very serious about resolving its alarming problems of alcohol misuse.
"We need a broad-based, coherent and effective strategy that recognises the complexities of the difficulties we face - there is no silver bullet that will provide a quick fix.
"The Commission was repeatedly told that it will be difficult to change Scotland's culture in relation to alcohol, but it can be done. We need leadership that both recognises the problem and is prepared to take comprehensive steps."
The Commission has already called for a limit on the amount of caffeine allowed in alcoholic drinks.
Labour, the Tories and the Liberal Democrats are all opposed to the SNP`s plans for minimum pricing for alcohol. However, Health Secretary Nicola Sturgeon defended the proposal and said: "We must tackle Scotland's unhealthy relationship with alcohol as the cost to society - both in financial and human terms - is simply unsustainable."
She added: "I believe that minimum pricing is a policy whose time has come. While it's not a magic bullet, it would effectively target problem drinkers and help them reduce their alcohol consumption.
"Minimum pricing offers Scotland the chance to lead the way in the UK, just as we did by introducing a ban on smoking in public places.
"Growing numbers of people, including numerous influential health bodies, are already convinced that this is policy which would deliver results."
Ms Sturgeon argued: "While a ban on sales below tax has been proposed by the spirits industry, the fact is that it would not make any difference.
"It would create a minimum price so low that it would have no effect on consumption. Retailers have also said they do not sell below tax in any case."