Gary McKinnon's mother hails 'life-saving decision' not to extradite him
Janis Sharp 'overwhelmed' after Home Secretary Theresa May blocks her son's extradition to the US.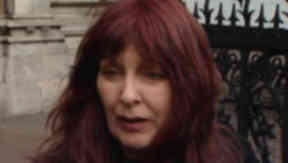 Home Secretary Theresa May made a "life-saving decision" when she used the Human Rights Act to block the extradition of computer hacker Gary McKinnon to the United States, his mother has said.
Janis Sharp, who was overwhelmed by the "emotional rollercoaster" of the 10-year fight against extradition, said it was such a relief to see her son smile for the first time in years.
Mr McKinnon was accused by US prosecutors of "the biggest military computer hack of all time", but he claims he was simply looking for evidence of UFOs.
Ms Sharp said: "I know it's been a life-saving decision because Gary doesn't travel abroad, he doesn't go on holiday, he very rarely leaves north London, and to be taken from everything you know, your family, everything, thousands of miles away is so terrifying to him.
"I can understand that he felt he would rather be dead."
The last 10 years had been "horrendous" because her son would "just sit in the dark all the time", she added.
"You saw him shut down and slow down.
"It's been awful watching Gary go downhill so badly, but such a relief to watch him smile for the first time in many years, it's amazing."
Her son could not speak when he heard the news because he was so emotional, she said.
Asked about the possibility of a trial in the UK, she added: "He's lost 10 years of his life, but if this happens as well, we can deal with that."
She went on: "It's been an emotional rollercoaster so I'm not very articulate today. I'm overwhelmed, incredibly happy.
"I want to say thank you to Theresa May because it was an incredibly brave decision - to stand up to another nation as strong and powerful as America is rare and she had the guts to do it."
It will now be for the director of public prosecutions (DPP) Keir Starmer QC to decide whether Mr McKinnon should face charges in the UK.
Mrs May stopped his extradition on human rights grounds after medical reports showed the 46-year-old was very likely to try to kill himself if extradited.
"After careful consideration of all of the relevant material, I have concluded that Mr McKinnon's extradition would give rise to such a high risk of him ending his life that a decision to extradite would be incompatible with Mr McKinnon's human rights," she told MPs.
A so-called forum bar will also be introduced to extradition proceedings to enable British courts to decide whether a person should stand trial in the UK or abroad, Mrs May added.
Lawyer David Rivkin, former White House counsel to President Reagan and the first President Bush, warned the decision would go down "very badly" in the US.
"It's really deplorable," he told BBC Radio 4's The World At One programme.
"The justification by the Home Secretary is laughable. You have an individual who says he is going to commit suicide - American prisons and penal institutions have an excellent track record of stopping people who are trying to commit suicide.
"Under this logic, all a person needs to say to not get extradited is 'I'm going to kill myself'.
"That's not a serious argument. Under that argument, why do you even arrest anybody?"
But Mr McKinnon's lawyer Karen Todner said it was "a great day for British justice" and added that she hoped the DPP "might consider that Gary has suffered enough".
Mr McKinnon has "done more than his sentence, in my view, but obviously that's a decision for Keir Starmer", she said.
Medical evidence may even suggest that he is unfit to enter a plea, she added.
Edward Fitzgerald QC, who represented Mr McKinnon, praised Mrs May's actions, saying: "It was only thanks to the Human Rights Act that she had the power to stop this extradition."
David Burrowes, Mr McKinnon's MP, said: "It's a life that's been given back to Gary in a long dark tunnel that is 10 years.
"This must never happen again."
Sting's wife Trudie Styler also praised Mrs May for showing "humanity and courage" in reaching the decision.
Shami Chakrabarti, director of civil rights group Liberty, added: "This is a great day for rights, freedoms and justice in the United Kingdom."
But the family of terror suspect Babar Ahmad, who was extradited alongside radical cleric Abu Hamza and Syed Talha Ahsan earlier this month, accused the Government of double standards.
"Many of our supporters are angry at what appears to be blatant old-fashioned racism under which all British citizens are equal but some are more equal than others," Ahmad's family said in a statement.
But Home Office medical evidence showed that as well as suffering Asperger's syndrome like Ahsan, Mr McKinnon was also very likely to try to kill himself if extradited to the US, where he faced up to 60 years in prison if convicted.
The US stance also appeared to soften this summer, with government adviser John Arquilla saying they should be recruiting elite computer hackers to launch cyber-attacks against terrorists instead of prosecuting them.
Both Prime Minister David Cameron, who has held talks on the case with President Barack Obama, and his deputy Nick Clegg previously condemned plans to send Mr McKinnon, from Wood Green, north London, to the US.