Massive oil rig towers over Dundee
The Rowan Gorilla IV platform is brought into city for maintenance - cutting a spectacular figure on the city's waterfront area.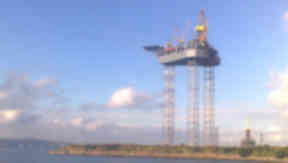 A massive oil rig is towering over Dundee on Thursday while maintenance work is carried out on the structure.
The Rowan Gorilla VII rig is cutting a spectacular figure over the city - with locals flocking to get photos of the enormous drilling rig.
The platform is currently set at the top of its possible range - overlooking the city and the Tay estuary from a height of more than 550 feet - 170 metres.
The rig has most recently been in operation off the coast of Angola - but is now being deployed to the North Sea.
As a result, it has been brought into docks in the Stannergate area of Dundee to have parts of its legs removed as it does not require to reach the same heights in its new location.
A spokesman for Forth Ports said the rig would be in the docks for around a month.
He added: "Sections of the legs are to be removed from the top of the rig.
"It will be at its full height for around a week. RAF Leuchars and Dundee Airport have been informed."