Majority of SPL clubs 'do not expect to make money this season'
Finance firm PKF said a 'widening gap' could emerge over players wages.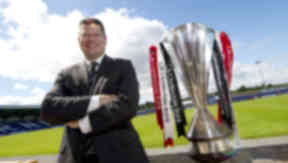 The majority of SPL clubs do not expect to make any money this season, according to a report by a finance firm.
Accounting and business advice company PKF said a "widening gap" could emerge between the wages paid to players in Scotland compared to their English counterparts.
The company's annual football survey, Leagues Apart, showed that two thirds of Scottish Premier League clubs do not expect to make a profit before player trading and depreciation during the 2012/13 season.
Only 17% of respondents said their financial situation is "healthy" - the lowest proportion of any of the leagues questioned. PKF said it is "worrying" that two thirds of SPL clubs who responded say they are dependent on their principal shareholder to cover cover annual revenue shortfalls or operating losses.
Six SPL teams participated in the survey (there are 12 teams in the top flight in Scotland), as well as clubs in the English Premier League, Football League Championship, and Football Leagues One and Two, with a total of 62 finance directors questioned.
A third of SPL sides reported that they will pay first team players the same amount as last year, while two thirds said they will pay less. However, transfer budgets will remain the same, according to the survey.PKF said the survey shows that, with the exception of a few of the top sides, it is becoming increasingly difficult to run a football club without losing money.
Charles Barnett, head of the football industry group at the firm, said: "There is clear evidence that clubs are absorbing some of the financial lessons of the last decade and are reducing wages to turnover to ensure they operate within a manageable ratio.
"However, it is also equally clear that players and their agents may not have absorbed this lesson and are continuing to demand wages which are untenable for the majority of Scottish clubs. The result is likely to be a widening gap between the wages players are paid in Scotland compared to their English counterparts.
"This will have worrying ramifications for the future development of Scottish football as it is unlikely SPL teams will attract top players in the same way as clubs in England which will, in turn, widen the gap between wages in Scotland and England."
Rangers crisis
SPL clubs stated that income fell across the board in the 2011/12 season, as 83% said merchandising and match day catering revenues were down, just under 67% reported a drop in sponsorship and corporate entertaining packages and half said there had been a fall in match ticket sales.
The biggest concern for the coming season is a fall in TV income followed by falling attendances at games due to the poor state of the economy, according to the survey. A third of SPL clubs believe the state of the economy will cause all revenue streams to be down in 2012/13, with the exception of corporate entertainment, where only 17% believe this revenue will be reduced.
Newco Rangers FC were forced to start life in the Third Division this season, after administrators were called in to deal with the club's financial crisis.
Mr Barnett said: "The story remains the same for Scottish football with falling revenue streams last season and a similar situation predicted for the coming year. Indeed it is likely that the financial concerns of many SPL teams will be heightened with the loss of Rangers from the league.
"It is likely that some clubs will now be predicting an even greater fall in revenue for the coming season and further worries about whether they can manage the financial gap between expenditure and income which the departure of Rangers has undoubtedly precipitated.
"The problem is that many SPL clubs were facing a difficult year anyway but the changed circumstances of the league mean those difficulties may have become exacerbated."
He added: "Nobody can deny that these are worrying times for Scottish football. But there may be something more positive which arises out of the current situation.
"For example, this season Rangers is substantially increasing revenues among the teams of the Third Division which will provide those clubs with welcome additional finance."