Swinney: Only independence can stop seven years of spending cuts
Finance Secretary blasts 'tragic, self-defeating' Westminster policies in address to SNP conference.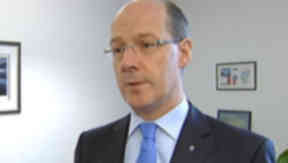 Staying in the Union would mean seven more years of spending cuts across Scottish services, John Swinney has warned.
The Finance Secretary slammed the policies of the unionist parties at both Westminster and Holyrood as he demanded UK Chancellor George Osborne end his "obsession with austerity".
And he turned on Scottish Labour leader Johann Lamont after she questioned the affordability of policies such as free university education and free prescriptions and called for an end to the "something for nothing culture".
Mr Swinney told the SNP annual conference in Perth that Ms Lamont should hang her head in shame for that "insult".
In his address, he attacked Scottish Labour and the UK Government as he argued it was only independence that would allow Scotland to flourish.
Mr Swinney criticised the current government at Westminster and its Labour predecessor as he said: "We know that between Labour and the Tories, the double dip recession has 'Made in London' stamped all over it.
"What we want for Scotland is the opportunity to create a recovery 'Made in Scotland' with the powers of an independent country to bring it about."
He said Scots had a "clear choice" in the 2014 independence referendum and insisted the SNP would win that "because we have a vision of a better Scotland".
Leaving the UK, Mr Swinney argued, would allow for "faster, sustainable economic growth with opportunities for all to flourish".
He said: "The current economic decision demonstrates why we must win. Right now, we face the unprecedented economic challenges of this recession without the powers that other countries have at their disposal."
He turned on Mr Osborne, saying the UK Government's policies would lead to "even more London cuts" in the years to come.
"The Chancellor's mistakes are laid bare for all to see," Mr Swinney said.
"The lack of a coherent economic plan. The front-loading of cuts when the recovery was most fragile. And crucially, the decision to shift the burden of cuts on to capital investment."
He added: "What makes the situation truly tragic is the Chancellor's actions are in themselves self-defeating.
"The lack of growth means that far from cutting the deficit, the UK Government's own prediction is of an extra £158bn of borrowing over the next five years just to pay the cost of economic failure.
"That will give rise to even more London cuts in 2015-16 and 2016-17. The status quo means seven consecutive years of cuts and counting."