Aberdeen man killed in Philippines by his internet bride-to-be's boyfriend
John MacDonald, 28, was killed on his quest for long-distance love.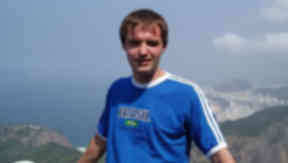 A Merchant Navy officer from Aberdeen who flew across the world to propose to a woman he met on the internet has been stabbed to death by her boyfriend.
John MacDonald, 28, died just two days after he arrived in the Philippines to meet his bride-to-be.
He met Nanqueen 'Nancy' Romero, on an internet dating site but police suspect she failed to tell him she already had a boyfriend.
Mr MacDonald flew to the town of Angona, 20 miles east of Manila, where he met the 31-year-old, face to face for the first time.
Just two days later he was dead - stabbed numerous times by Miss Romero's enraged live-in Filipino boyfriend.
She was also stabbed by the boyfriend, named as Anselmo Lacostales. Miss Romero received stab wounds in the stomach and arms and is now in intensive care.
According to police officer Edgar Petalvero, who is in charge of the case, Mr MacDonald met Miss Romero through an internet dating site chat room.
They spent weeks conversing with each other online before she invited him to fly to the Philippines. Officer Petalvero said: "Mr MacDonald arrived in the Philippines last Thursday and called around at Nancy's house on Saturday.
"From what we understand, she introduced her live-in boyfriend, Lacostales, as her brother. But trouble came after they all went out to dinner."
Police said Lacostales was with the pair throughout the evening and had stabbed them when he heard Mr MacDonald talking of marriage.
Mr MacDonald remained close to his mother and family in Fraserburgh despite his globe-trotting career.
Mum Joanne said: "He was a much-loved son and brother and was very close to his family. He spent a lot of time at sea, but when he was off on leave he spent his holidays first visiting family and friends, then travelling, which he adored."
John, a Second Mate, worked originally on North Sea oil rig supply ships but latterly had worked on international contracts.
Joanne said: "John loved playing guitar and was passionate about Rangers."
"His death is a tragedy and he will leave a gap in so many people's lives that will never be filled."
He is survived by mother Joanne, stepfather Gary Gibson, brothers Kenneth, 30, Stuart Gibson, 21, and sister Debbie Gibson, 19.
A Foreign Office spokeswoman said: "We can confirm the death of a British national in the Philippines on Sunday September 5.
"Next of kin are aware and we are providing consular assistance to the family."