Lance Armstrong memoir 'fiction' joke by charity shop goes viral
The Age Scotland shop in Glasgow's Byres Road labelled the book 'fiction'.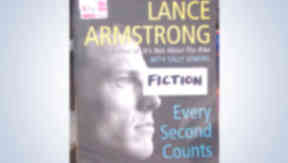 A Glasgow charity shop's satirical take on cyclist Lance Armstrong's recent struggles has proven to be an internet hit.
University lecturer Tony Pollard highlighted the joke made by staff at Age Scotland in the city's Byres Road on micro-blogging site Twitter, where it has since been shared by users across the world.
The archaeologist and historian based at Glasgow University tweeted a photograph of Armstrong's memoir Every Second Counts on sale at the shop last week, which had been labelled 'fiction'.
It came after the American cyclist's career lay in tatters following a series of allegations surrounding his use of doping, which has so far resulted in him being stripped of seven Tour de France titles by the sport's governing body, the International Cycling Union this week.
Mr Pollard told STV: "My wife and I saw the book in shop window. I thought 'That's funny, it'll do quite well online.'
"Little did I know it was going to go viral – it's been re-tweeted and shared, I've gained around 100 followers out of it, many of them cycling fans.
"I went into the shop a few days afterwards to talk to them about what they had done to the book. I think they thought at first that I was one of Lance Armstrong's lawyers, but I told them that the joke was really funny and I had tweeted about it, which had gone absolutely ape.
"I'm a relative newcomer to Twitter, but this has helped me understand what it's all about."
International sites such as MSN and Yahoo have picked up on Mr Pollard's tweet, which is still receiving notice a week on from when it was first made.
Mr Pollard shared the photo on his Twitter page.