Social housing 'will suffer because of Westminster cuts'
Housing Minister Alex Neil says £80bn a year cuts will impact on investment in social housing.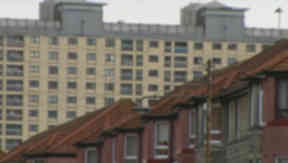 Social housing in Scotland will suffer as a result of the UK Government's planned public spending cuts, the Housing and Communities Minister warned on Wednesday.
Alex Neil MSP said the planned £80bn a year cuts are bound to impact on the level of investment in social housing north of the border.
He said housing associations must adapt with radical thinking and bold new ideas to support the increased supply of affordable homes.
Mr Neil was one of the speakers at the Scottish Federation of Housing Associations annual conference in Glasgow today.
He said: "The trail of destruction left by the UK Government's planned £80bn a year spending cuts means that next year, Scotland's housing sector faces the stark prospect of a reduction in funding for low cost homes.
"Housing Associations are already developing fresh thinking and are actively involved in new funding models such as the National Housing Trust, and securing finance from new sources such as the European Investment Bank.
"In May, The Scottish Government published a discussion document, Housing: Fresh Thinking, New Ideas, which poses fundamental questions about the way homes can be built, allocated, funded and managed.
"It is therefore in the interest of every housing association in Scotland to join that debate and help shape the future direction of our housing system."
The European Investment Bank gives housing associations access to another, competitively priced source of lending.
Mr Neil also pointed to how housing associations have embraced the National Housing Trust initiative, which aims to support around 1000 new affordable homes for intermediate rent.
Over the next 25 years, the number of households in Scotland is projected to increase by more than a fifth to 2.8m - an average of an additional 19,000 households per year.