Climate change target missed due to 'extremely cold weather' in 2010
Labour accuses Government of using 'every excuse under the sun, including the lack of sun'.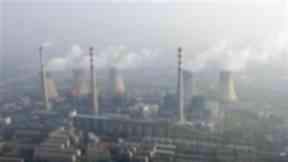 Scotland has failed to meet its first legally binding climate change target.
The first Scottish Greenhouse Gas Emissions Annual Target Report states that Scotland emitted 54.7 megatons of carbon dioxide equivalent in 2010 — 1.1 megatons above the target set by the Climate Change Act 2009.
At Holyrood, Environment Minister Paul Wheelhouse blamed "exceptional cold snaps", "year-to-year fluctuations", "factors beyond our control", "budget constraints", "the challenging financial environment" and data revisions for the rise.
But Labour accused the Scottish Government of using "every excuse under the sun, including the lack of sun" to detract from the "failure of their policy direction".
Mr Wheelhouse said: "Many will remember 2010 was a challenging year for all sorts of reasons, not least the two exceptional cold snaps. This was a major factor but not the only factor as to why emissions rose in 2010.
"Naturally, I and all members of the Scottish Government are disappointed that Scotland has missed its first climate change target; 2010's increase in greenhouse gas emissions was the first year-on-year increase experienced in Scotland since 2006."
Scotland's emissions have fallen by 24.3% since 1990, he said, predicting that they will "continue to reduce".
The UK Department of Energy and Climate Change recorded a provisional 25% reduction in UK domestic gas consumption between 2010 and 2011, which Mr Wheelhouse believes will be reflected in Scotland's figures for 2011.
"When it voted unanimously to pass its Climate Change Act the Scottish Parliament acknowledged that meeting such ambitious targets would be challenging," he said.
"Year-to-year fluctuations and factors beyond our control are inevitable but the trend remains strongly downwards.
"Scottish ministers remain fully committed to delivering Scotland's ambitious and world-leading greenhouse gas emissions targets, despite the budget constraints and challenging financial environment we're all operating in.
"Extremely cold weather for prolonged periods at the start and end of 2010 had a major impact on emissions. The average temperature for January to March and October to December was the coldest since 1919. As a consequence, domestic heating emissions rose and the consumption of heating fuels increased."
Emissions in the residential sector increased by 15% in this period, equating to 1.1 megatons of emissions, he said.
A further one megaton was added by industrial processes through "historic emissions data being significantly revised upwards due to new data being made available".
Labour environment spokeswoman Claire Baker said the new report represents "a failure".
She said: "The Scottish Government has offered every excuse under the sun, including the lack of sun, but we must now accept responsibility for the failure of their policy direction.
"Stop Climate Chaos, in response to this year's draft budget, said the budget 'makes it clear that the Government is not taking sufficiently seriously the need for urgent action to tackle emissions and meet its legally binding climate change targets'.
"This emissions failure makes future targets even more challenging. We are not seeing the step-change needed to achieve our ambitions and Scotland is set to fail to meet all but one of the annual emissions reduction targets between 2010 and 2022."
Speaking after the debate, Green MSP Alison Johnstone said: "It's ironic to see other MSPs applauding a massive new road project for Aberdeenshire in the same hour as they sit solemnly to hear that a climate target has been missed.
"Passing the Climate Act didn't make the problem go away. That requires really bold action on housing and transport that we're just not seeing from the Scottish Government, despite the potential to provide a great deal of employment in construction.
"Ministers have missed this crucial first target, which makes it harder to stay on track in future years, but failed to announce a single new policy in response.
"There is a feeling of complacency on the climate at Holyrood that must be challenged or Scotland's self-promoted status as a climate leader will unravel within a few years."
Liberal Democrat climate change spokesman Jim Hume said: "After missing its first climate change target the Scottish Government should be stepping its efforts up a gear.
"Almost half of all carbon emissions come from housing and transport sectors but the Minister for Environment and Climate Change admitted during his statement that he hasn't even met with his relevant colleagues to discuss this.
"Scottish Liberal Democrats want the Scottish Government to take its climate change commitment seriously. That must start with its own ministers addressing climate change within their own policy areas."