Salmond announces investigation that he 'misled' Holyrood over EU
Scotland Tonight looks at the announcement by Alex Salmond that there will be an independent investigation into whether he misled Holyrood over EU membership.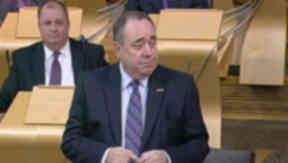 The First Minister has announced an independent investigation into whether he misled Holyrood on his Government seeking legal advice about independence and EU membership.
The fallout from the row has produced some of the most difficult moments for Alex Salmond since winning power.
With the future of the United Kingdom itself at stake, the performance of the Scottish Government has been under even more intense scrutiny than usual.
Over the last few days, the SNP's problems have been mounting, meaning that opposition politicians saw First Minister's Questions as an opportunity to strike a blow.
Alex Salmond again denied any wrongdoing. He also said he'd referred the issue to an indepedent investigation into whether or not he had broken the ministerial code.
All the parties claimed victory, but observers were not sure there were any clear winners.
It has been a difficult week for Alex Salmond. So far, his opponents have not quite landed that critical blow, but the pressure is not off yet.
Scotland Tonight discussed the developments with SNP supporting blogger Kate Higgins, Holyrood Magazine columnist Shelagh McKinlay and the Scottish Daily Mail columnist Katie Grant.