Obama warns of 'potentially fatal consequences' of Hurricane Sandy
STV weatherman Sean Batty issues a special forecast as 'big and powerful storm' heads for land.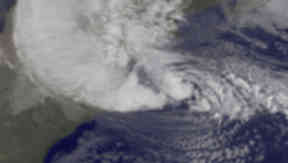 US President Barack Obama has urged people on the east coast of America to take heed of warnings to evacuate before Hurricane Sandy's arrival on Monday night to avoid "potentially fatal consequences".
Mr Obama, who left the election campaign trail to monitor the storm, said the "big and powerful storm" was expected to make landfall in the evening.
"Please listen to what your state and local officials are saying," he urged people. "When they tell you to evacuate, you need to evacuate. Do not delay, don't pause, don't question the instructions that are being given, because this is a serious storm and it could potentially have fatal consequences if people haven't acted quickly."
The president said millions of people would be affected and that authorities were working to provide food, water and emergency power. But the clean-up could take some time, he said.
Two people also remain missing after a crew of 16 on the tall ship HMS Bounty was forced to abandon the vessel when it was left stranded around 90 miles (145km) offshore.
Thousands of Britons' travel plans were wrecked as flights were axed, while transport networks in the US were also shut down.
STV weatherman Sean Batty made a special forecast for Scots worried about family and friends on America's east coast.
He said: "For the mid-Atlantic states we are looking at a potentially huge storm surge heading in there through the course of tonight.
"We're looking at an incredible storm sturge, especially around New York ... we're possibly looking at an incredible 11ft storm sturge coming into New York harbour. Something like that, I imagine, could be very, very damaging if that does come off.
"Incredible amount of rainfall to come but especially so over the mid-Atlantic states — we'll be looking at around four to eight inches of rain possible here.
"And, because we are pulling in that colder air it does look as if we'll see an incredible amount of snowfall ... the possibility of around three, maybe even four, feet of snow falling in places.
"Over the next 24 hours, the possibility of quite a bit of damage over the eastern states."