Police Scotland: Name of new single police service unveiled
The force will come into effect on April 1 next year, replacing the current eight forces throughout the country.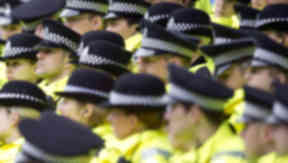 Scotland's new national police force is to be known as Police Scotland.
STV News has learned the name will be given to the force when it comes into effect on April 1 next year.
The service is being created through a merger of the country's eight existing forces and will have more than 17,000 police officers.
A spokeswoman for the force said: "The legislation for the new force describes it as the Police Service of Scotland, but its public name will be Police Scotland."
"It does exactly what it says on the tin. It describes a single police service for the whole of Scotland."
Earlier this month, Stephen House, former Strathclyde Chief Constable was sworn in as Chief of the new force in a private ceremony.
The headquarters for the force will be at the Scottish Police College in Tulliallan.
Join in: For debate, chat, comment and more, join our communities on the STV News Facebook page or follow @STVNews on Twitter.