Susan Boyle 'faints' after being told she is going to meet the Pope
Singer astonished to discover she will have personal audience with Pope Benedict.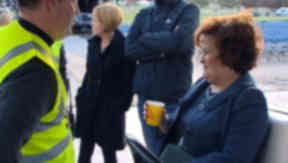 Susan Boyle appeared to faint upon being told that she would get to meet Pope Benedict XVI in person when he visits Glasgow.
The world-famous Scottish singer had been at Bellahouston Park for a dress rehearsal ahead of the Papal Mass, which will be held in front of some 65,000 followers.
The singer, who shot to fame after appearing on Britain's Got Talent, was seen to sit down on the stage to steady herself.
The 49-year-old later said: "It's fantastic. The icing on the cake."
The star will sing the hymn How Great Thou Art, as well as her signature song I Dreamed a Dream before the Mass starts and will perform a farewell song for Pope Benedict as he leaves.
Speaking earlier she said she had been asked by Cardinal Keith O'Brien to perform at the event.
"My family will be there on the day on what will be a very special day for all of us and I hope they will be proud of me," she said.
Speaking of her late mother, she said: "I know she won't be there physically, but she was at Bellahouston Park in 1982 and I know she will be there again, spiritually, she will be with us."
"The Pope's visit is a very big event for Scottish Catholic. I pray and say the rosary each day and am very close to my religion. I am humbled and honoured by this invitation and I hope I can do my best."