Scotland Tonight discusses the SFA's decision to remove Craig Levein
Scotland manager Craig Levein ousted after national team wins just three competitive games under his charge.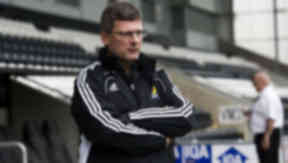 He refused to resign. So now he has been removed. Craig Levein is no longer the manager of Scotland's football team.
In nearly three years in charge, he won just three competitive games — the worst run by a Scotland manager ever. But the SFA has been criticised for dragging its heels over the decision to replace him. Now they have to find a replacement.
Craig Levein has been dammed by just three competitive wins in almost three years as Scotland manager. As the national side slumped to bottom of the doomed world cup qualifying group, the SFA debated and dithered. On Monday they finally made a decision.
Despite the SFA relieving Levein of his duties, the board has not actually agreed a pay-off deal to sack him. The man with the worst competitive record of any Scottish manager in history continues to collect full pay for the remaining two years of his contract.
Scotland Tonight discussed the developments with sports writers Tom English and Stephen McGowan and the doyen of Scottish football Archie Macpherson.