'Soldiers who kill should not get medals', says Church leader
Rev Ian Galloway claims the taking of life should not be condoned.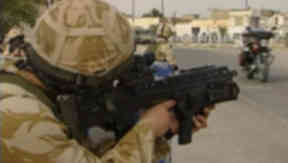 Soldiers who kill during battle should not receive medals, a senior member of the Church of Scotland said.
Speaking out during a debate on assisted suicide at the Scottish Parliament, the Rev Ian Galloway said he thought current procedures should be changed so that taking life is not condoned.
His remark came in reply to points raised by independent Lothians MPS Margo MacDonald. She wants the law on assisted suicide changed.
Rev Galloway is one of a number of religious leaders opposing the move. He is the convenor of the influential church and society council of the Church of Scotland.
In reply to Ms MacDonald, who highlighted that soldiers taking lives often receive medals, Rev Galloway said:
"I don't think that's a good idea that we do that. I think it's terrible, I think we should change it.
He continued: "I think that killing in wars is tragic. I think the fact that they happen is tragic, and if it is a necessity that we do these things, I do have a bit of a problem about the way that our values system holds that up."
However, Rev Galloway later sought to play down his comments, saying:
"What I would want to say is that we rightly recognise valour in combat rather than the act of killing, and it is that valour that we award medals for.
"The giving of medals to soldiers for bravery in the field of battle is of the utmost importance and many courageous soldiers throughout history have rightly received recognition for their heroic acts.
"I stand by the view that war is tragic and deaths through war are tragic - both of combatants and untold civilians of any nationality."
He added: "I have the utmost respect for the commitment and sacrifice that our service men and women make on our behalf."
A special Holyrood committee is considering whether to change a law which leaves Scots who assist others in suicide attempts at risk of culpable homicide charges.
The proposal has been backed by the Humanist Society of Scotland. But on Tuesday, leaders of Christian, Muslim and Jewish faith groups warned of the potential dangers of changing the law.
Dr Bill Reid, from the Methodist Church in Scotland said: "When we talk about assistance to end life, the whole of Scottish society is being asked to assist in ending life.
"I think that's a very important thing to take into consideration, because not only are you talking about the individual whose lives have been ended.
He added: "It's a very dangerous step to take - to take society down that route, and it`s every part of society, not just the religious bodies."
Leah Granat, from the Scottish Council of Jewish Communities added: "As a society, it would be unfair of us to expect everyone to end the life of their patients.
"The majority of medical professionals, people in various welfare services, the vast majority, did not go into those services to end life, but to care for people in all conditions and to provide dignity for those people whatever condition they were in."