Dunfermline teenager collapsed and died on school trip
Diabetic Lauren Murphy was in London with her friends and teachers from St Columba's High School, an inquest heard.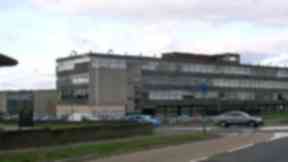 A diabetic teenager from Dunfermline who died during a school trip was laughing with her friends moments before she collapsed, an inquest heard.
Lauren Murphy, 14, was staying in a London hotel with a party from her school, taking in various historical and tourist attractions including the Houses of Parliament and Madame Tussauds.
On June 22 she spent the evening with classmates and teachers at a Pizza Express restaurant followed by a theatre trip to see Billy Elliot.
They returned to the Travelodge in Euston Road, King's Cross, at around 11.30pm and Lauren and her friends stayed up in the corridor outside their rooms chatting for a while, the inquest at St Pancras Coroner's Court in London heard.
But as she ran back to her room later, she overshot the door, which she and her friends found funny, the coroner was told.
Friend Robyn Jack, 15, told the inquest: "Lauren missed the door so she was laughing.
"That's when she collapsed, when we got back to the room. She was laughing and then all of a sudden she made this face and fell."
Lauren, a pupil at St Columba's High School in Dunfermline, Fife, was diagnosed with Type 1, insulin-dependent diabetes in 2000.
The inquest heard readings from her electronic testing machine indicated her blood-glucose levels had fluctuated widely in the months before her death and the last reading she took, at around midnight, showed it was unusually high at 28.9 millimoles per litre.
Injection
A mark on her thigh suggested she had injected herself with insulin as a result.
Teacher Wilma Pirie broke down in tears as she described her panic when she found Lauren collapsed on the floor some time after 1am on June 23.
"I was sitting on the bed chatting to my colleague and I just heard girls screaming and shouting 'we need a teacher"', she said.
Ms Pirie "dropped down" to her knees and checked to see if Lauren was breathing and began talking to her until a first aider from the hotel arrived and the pair did mouth-to-mouth and chest compressions.
"I was just panicking," she said. "I didn't know if she could hear me or not so I started to speak to her.
"She didn't look too good and she was really, really hot."
Asked how Lauren had seemed in the first two days of the school trip, the teacher replied: "Just her normal, happy self."
The inquest heard London Ambulance Service received a call at 1.48am and paramedics arrived at the hotel at 1.53am.
Hyperglycaemic
They noted she had an abnormal heart rhythm and found her blood-glucose level to be 27.9, making her hyperglycaemic.
Lauren was taken to University College Hospital but she failed to respond to treatment and was pronounced dead at 3.15am, the inquest heard.
Recording a verdict of death by natural causes, coroner Dr Andrew Reid said: "It appears that it was with some difficulty that she (Lauren) controlled these blood-sugar levels and that is a reflection of the nature of the disease and no criticism of her or those who cared for her."
He added: "The underlying cause of her death was Type 1 diabetes. On a balance of probabilities I am satisfied she died from ventricular fibrillation cardiac arrest with hyperglycaemia and associated metabolic disturbance."
Lauren's parents, Elaine Cowper and Jim Murphy, did not attend the inquest.Donna Manson, area education officer for Fife Council, said after the inquest: "This has been a terribly traumatic time for Lauren's family, friends and the whole school community and our thoughts are with them.
"Lauren was a vibrant, popular girl who was a great help to younger pupils and always willing to get involved with the life of the school and she is missed by everyone who knew her.
"The proceedings today have been difficult for all those involved but now they are concluded we hope her family and friends can be left to grieve privately."