Scientists warn over invasive 'killer' ladybird
Harlequin ladybird - which experts say can edge out native species - found in punnet of raspberries bought in Perth supermarket.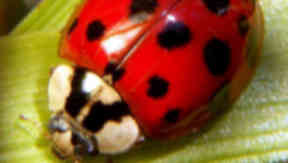 Scientists are warning of the threat posed by an exotic "killer" ladybird - which turned up in Tayside in a punnet of raspberries bought from a supermarket.
The Harlequin ladybird almost became part of a lunchtime snack, but was rescued from the pudding bowl and handed over to the Scottish Crop Research Institute.
It is feared the killer bug could pose a threat to Scotland's indigenous ladybird population if it got loose.
The rogue Harlequin is now feasting on aphids at the Scottish Crop Research Institute.
But it had been tucked away in a punnet of raspberries, picked in Herefordshire and bought in a Perth supermarket.
They are native to Asia, but have become widespread in America and Europe after being imported to eat pests in greenhouses. Within the past decade they've appeared in huge numbers in England, and the first sightings in Scotland were reported last year.
The Harlequin can edge out its smaller cousins in much the same way that red squirrels are by bigger greys.
However, the Harlequin Ladybird takes survival a step further.
Dr Nick Birch, of the Scottish Crop Research Institute, said: "It's a highly competitve species, it eats a lot more aphids that other ladybird species, the native ones, and when it runs out of aphids it starts eating the native ladybirds.
"When something like this moves in it could wipe out the local ladybird species and take over and that would be a threat to local biodiversity."
There are lots of examples of invasive species in the plant world. For example, the water hyacinth, a native of Brazil, was introduced to Africa as cattle fodder.
Alasdair Hood, curator at the Dundee Botanic Gardens, added: "The cattle disappear from various areas and the water hyacinth just continues to multiply unchecked, uncrushed by the cattle's feet and it just starts to take over the the waterway.
"The Harlequin Ladybird could do the same here to our native species - as soon as you get something that doesn't have a predator it can start to be invasive."
The shipping of food around the globe means exotic insects often turn up thousands of miles from home. This Harlequin travelled just 300 miles - yet poses a serious threat.
The experts admit its spread is inevitable. They are now relying on a national ladybird survey - and sightings like this one - to track its progress.