Lung cancer cases to double over next 30 years predicts charity
There could be around 12,000 people with lung cancer in Scotland in 2040 says Macmillan Cancer Support.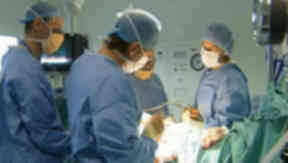 Cases of lung cancer are predicted to more than double in the next 30 years, according to a cancer charity.
There could be around 12,000 people with lung cancer in Scotland in 2040, compared to around 5500 today, research carried out on behalf of Macmillan Cancer Support has predicted.
Lung cancer is expected to rise 35 times faster amongst women than men, with more than twice as many women compared to men expected to have the disease in Scotland.
The research predicted that there will be 95,000 women with the illness UK-wide by 2040, compared to 26,000 in 2010.
The number of UK men living with the illness is expected to increase 8% from 39,000 in 2010 to 42,000 by 2040.
Macmillan's general manager in Scotland Allan Cowie said: "In the past lung cancer has to an extent been seen as an illness that affects men, however this new research shows that it is vital that both sexes know the symptoms of lung cancer and get themselves checked out if they have any concerns.
"We know one of the reasons more women will be living with lung cancer in the future is that our population is ageing and an older population increases the risk of cancer. However this also poses challenges in detecting cancer early as we know older people tend to wait longer to visit the doctor when they are ill.
"This research shows it is vitally important that the Scottish Government's Detect Cancer Early Campaign makes it a priority to raise awareness of lung cancer among women, while also encouraging older women in particular to get themselves checked out as early as possible if they have any symptoms."
Motherwell grandmother Carole McCluskey, 66, was diagnosed with lung cancer in August 2010.
She said: "It is absolutely shocking that so many women are going to be living with lung cancer in the future.
"Most women know the signs of breast cancer but probably not many know the signs of lung cancer but it's really important that changes.
"I didn't recognise my symptoms when I was ill and went to the doctor because I had pain in my arm. Looking back I can see all the symptoms now, however at the time I had no idea.
"I would also urge women to stop smoking. I was a heavy smoker for 50 years and there's no doubt in my mind that it caused my lung cancer."