Celtic match and last-minute holidays boost air passenger numbers
Scotland's airports saw increases in domestic and international passenger numbers in October.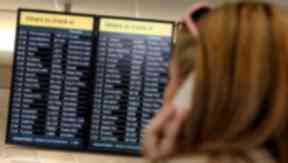 Passenger numbers at Scottish airports rose sharply in October, providing a boost to the commercial air industry.
Aberdeen saw an increase of 11.3% compared with the same month in 2011, the airport said.
The latest figures show the number of passengers using the airport increased to 316,666, up from 283,541.
The rise meant the site saw its busiest October for five years and the second busiest on record.
Glasgow airport handled almost 700,000 passengers travelling through the terminal, up 4.6% on the October 2011 figure.
The airport saw demand for domestic travel grow by 5.8%, with international traffic up 3.5%.
Bosses said the school holiday week combined with new domestic routes ensured it was a busy month while Celtic's away Champions League fixture against Barcelona also boosted outbound traffic numbers.
Amanda McMillan, managing director at Glasgow airport, said: "Our recent growth has largely been driven by demand for international travel, so it is particularly pleasing to see our domestic routes perform so well.
"We enjoyed one of our busiest October school holiday weeks, with the majority of passengers heading to sunspots such as Dubai, Canary Islands, Turkey and Florida, and we also received the welcome news from Jet2.com that it is to expand its base at Glasgow airport.
"The airline will introduce a fourth aircraft next year which will result in the creation of 50 new jobs and the addition of Murcia, Menorca and Pula in Croatia to its already long list of destinations.
"Maintaining growth will be challenging, especially as we enter the winter months, but we are committed to working with our airline and city partners to further strengthen our route network and to continue to provide passengers with greater choice."
At Aberdeen, domestic passenger numbers were up 10.2% and international traffic up 16.2% while the number of helicopter passengers rose by 6.6%.
During the school break, October 12 saw one of the busiest days in the airport's history.
Derek Provan, managing director of Aberdeen airport, said: "Given the current state of the UK economy, these figures are remarkably strong, with double digit growth in the domestic and international sectors, and the second best October performance in the airport's history.
"This strong growth has been achieved in spite of the UK Government's punitive tax system, which has seen air passenger duty in the UK reach punishing levels and left Britain hugely uncompetitive.
"We will continue to focus on delivering more choice and more destinations for passengers, and we are confident that the growth we have enjoyed this year will continue into 2013, but there is no doubt that growth levels would be even higher without the burden of APD (air passenger duty)."
Earlier this month, Aberdeen, Glasgow and Edinburgh airports joined forces to demand the UK Government reviews air passenger duty (APD) as a report claimed the charge could lead to a drop in passengers and a fall in tourist spending.
The report, commissioned by the three airports, warned that it could cost the Scottish economy £210m-a-year in lost tourism spending by 2016 and could lead to 2.1 million fewer passengers in Scotland's airports by then.