Brave director Mark Andrews wins gong at Scottish tourism awards
Andrews helmed the Disney-Pixar flick, which has brought in £336m at the international box office.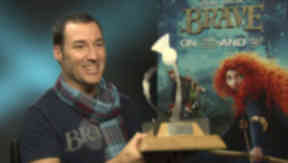 The director of hit Scotland-set animated movie Brave has been recognised at a tourism awards ceremony.
Mark Andrews helmed the Disney-Pixar flick, which has brought in £336m at the international box office and is thought to have boosted Scotland's image to potential tourists and holidaymakers.
Mr Andrews said: "I'm honoured that I could help raise awareness and bring Scotland out there to the world. Over the last year I've embraced my own Scottish roots and directing Brave has given me a wonderful chance to visit the country that I love so much."
The Scottish Thistle Awards, which were held at the Kelvingrove Museum and Art Gallery on Friday night, are operated by VisitScotland They recognise those individuals and businesses within the tourism industry who do the most to promote Scotland to visitors and to the world at large.
Mike Cantlay, Chairman of VisitScotland, congratulated Mr Andrews on his award, saying: "Throughout the last year Mark's film has catapulted Scotland into the hearts and minds of millions of potential visitors from around the world, and it was only right that we honour the mastermind behind this beautiful work.
"Added to this, wherever Mark has been, whether it be speaking with the tourist industry at our Highland premiere in Inverness or speaking with journalists around the globe, he has spoken of a deep love for our country and for people to truly experience it they have to visit it for themselves. He is a terrific and truly international ambassador for Scottish tourism."
The winner of the ceremony's Silver Thistle Award, given to those who make an outstanding contribution to the country's tourism industry, was handed to Ian Cleaver of Highland Heritage, a coach tour operator based out of Dalmally, Argyll.
Mr Cleaver, 73, started his business as a guest house in Oban and built up and extended the company over the years.