High street shoppers stay at home as economic gloom continues
The total number for October was 4% down on the previous quarter, according to industry figures.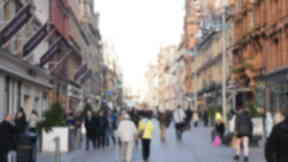 The number of people shopping on the high street has fallen by nearly 4% since the summer as money worries continue to hold back consumer spending.
Figures for the three months to October showed the rate of decline slowed from the previous quarter, when shopper numbers were 8.2% lower than the previous year.
The Scottish Retail Consortium's survey also found fewer shops were standing empty in October compared to July.
But Scotland fared worse than the UK as a whole, with overall numbers falling by 0.4%.
The proportion of empty shops in high streets and shopping centres was 9.9% in October, a slight fall from July's level of 10.5% and lower than the UK average of 12%.
Fiona Moriarty, director of the Scottish Retail Consortium, said: "Footfall is down on a year ago for the 15th month in a row, confirming that continuing worries about jobs and the economy are really taking a toll on shopper numbers.
"And when viewed alongside October's Scottish Retail Sales Monitor, which showed the worst sales growth since January, it really hits home the scale of the challenges facing both customers and retailers."
"There's no quick fix solution, but there are issues that the Scottish Government can act on now to help ease the burden and enable the retail industry to play its full part in economic recovery.
"Freezing business rates in 2013 is a good place to start - allowing a steep rise for the third year running can only lead to more empty shops and hamper retailers' ability to create jobs."