Cupcake hole-in-the-wall launched for sweet-toothed shoppers
Bradford's Bakers have unveiled the Bakery ATM at the St Enoch Centre in Glasgow.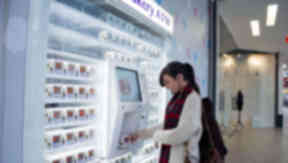 Sweet-toothed shoppers will be able to get their hands on freshly-baked cupcakes with the launch of a new cake hole-in-the-wall.
Glasgow-based Bradford's Bakers unveiled its latest venture, the Bakery ATM, in the city's St Enoch Centre on Tuesday.
The machine works in the same way as an ATM, as customers insert their payment card and select their treat of choice, which is then dispensed in a protective box for £2.50.
Seven different flavours will be available at any one time, including Irn-Bru, Raspberry Dream and Malteser Mint Medley, and the Bakery ATM will be restocked daily with cakes freshly made at one of Bradford's bakeries.
It is believed to be the first machine of its kind in Scotland and follows on from the success of the Sprinkles Cupcake ATM, which launched in Los Angeles earlier this year.
Claire Bradford, managing director of Bradford's Bakers, said: "We might be a fourth generation family firm, but launching the first bakery ATM in the UK in Glasgow shows that we've never stopped looking for fresh ways to service our customers.
"Our innovative bakery ATM will be restocked each morning with a choice of seven cupcake flavours from our extensive selection at any one time - including flavour of the week - and any cake dispensed will be freshly baked from our local bakery that morning."
The bakery ATM is located opposite Debenhams on the first floor of the centre, next to Santa's Grotto. Bradford's was founded in the south side of Glasgow in 1924 and remains a family-owned and operated business.