Veteran Gordon MP to receive knighthood at Buckingham Palace
Sir Malcolm Bruce was elected to his seat in Gordon in 1983 and has held it ever since.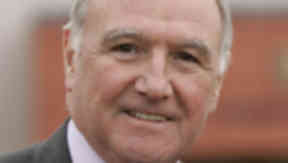 Veteran Liberal Democrat Sir Malcolm Bruce will be knighted on Wednesday for public and political services after almost 30 years as an MP.
Sir Malcolm is the party's Scottish president and is involved with charities for deaf people.
He will receive his knighthood during a Buckingham Palace investiture ceremony after being named in the Queen's Birthday Honours in June.
The 68-year-old was elected MP for the newly created Aberdeenshire seat of Gordon in 1983 and has held it ever since. He was leader of the Scottish Liberal Democrats between 1988 and 1992.
He is chair of the all party group on deafness and has roles with Action on Hearing Loss and the National Deaf Children's Society.
Sir Malcolm, whose daughter Caroline was born profoundly deaf, said he liked to think the honour was not just for "political longevity" but for charity work, when the knighthood was announced in the summer.
He said: "I got into that because of my daughter and hopefully it's of benefit to them. I've campaigned on behalf of deaf people ever since. It seemed the right thing to do. I'm also trying to get more MPs involved."
He joined the Liberal Party as a 17-year-old schoolboy and went on to become president of the Liberal Club while at St Andrews University.
He is the chair of the International Development Select Committee which examines the expenditure, administration and policy of the Department for International Development and its associated public bodies.