Tenants 'still forced to pay unlawful letting charges by agencies'
Tenants are still being charged fees for administration, inventories and credit checks.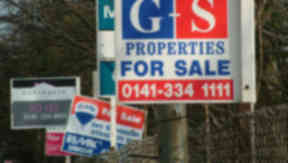 Tenants are still being asked to pay unlawful charges by some letting agencies, according to the body which represents chartered surveyors in Scotland.
People looking to rent a property can only be charged for rent and a deposit, legislation which was clarified by the Scottish Government earlier this year.
Despite this, some potential tenants are still charged with fees for administration, inventories and credit checks, the Royal Institution of Chartered Surveyors (RICS) Scotland said.
The body is now calling for more regulation in the private rented sector to provide greater security as the rental market continues to grow.
It said there are more than 500 letting agents throughout the country, many of which are unregulated.
RICS Scotland director Sarah Speirs said: "The private rented sector is growing in Scotland as people struggle to buy property and it is imperative that we regulate the sector to provide long-term security.
"The Scottish Government has taken welcome action introducing mandatory tenancy deposit schemes to protect individual's deposits, however, despite the significant regulation in place for landlords, there is a gap in regulation for letting agents.
"At present, lettings agents are not required to abide by a government, ombudsman or regulatory body code of practice, demonstrating a lack of legal responsibility.
"Until this happens, we recommend that tenants use a lettings agent that is a member of a professional organisation, such as RICS."
John Gell, director of property firm Simply Let, said: "You probably don't need an agent when all is going well but when things go wrong with the tenancy you certainly do.
"That is when an agent regulated by RICS and with expertise in landlord and tenant law will fully protect your interests."