John Swinney: Westminster cuts are holding back £800m of projects
UK Government must reverse cuts to boost economy and create jobs, according to Finance Secretary.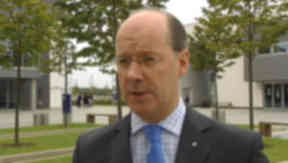 Over £800m of infrastructure projects could boost the Scottish economy and create jobs if the UK Government reversed spending cuts, the Finance Secretary has said.
John Swinney has unveiled a list of "shovel-ready" projects in a letter to Chancellor George Osborne ahead of his Autumn Statement.
Covering investment in transport, regeneration, health and education across Scotland, Mr Swinney said every project on the list could be completed by 2014 if the Chancellor "significantly increased" available capital.
Mr Swinney said: "Scotland's budget for construction and maintenance projects is being cut by 33% by the UK Coalition Government in a failed attempt to reduce public sector borrowing and while we are investing what we can in economic recovery in Scotland there is much more to do.
"Too many households are still struggling and too many people find themselves out of work. I have asked the Chancellor to significantly increase Scotland's level of capital investment in his Autumn Statement to boost our future prosperity. This would provide much needed work to the Scottish construction sector and boost local economies all over Scotland."
The Finance Minister said capital investment was "central" to the SNP Government's economic strategy, with every additional £100m of capital spending estimated to support around 1400 jobs.
He added: "The Scottish Government is doing all it can within its current powers. We have set out further investment in construction, skills and the green economy in our draft budget. Only last month we announced details of an additional £40m of investment for affordable housing.
"This highlights the limitations of the current constitutional arrangements, in particular our inability to borrow. That means work is delayed while we await the green light from Westminster.
"With the full fiscal and economic powers of independence Scotland could create the best possible environment for economic success."
Mr Osborne will deliver his Autumn Statement on December 5.