Scotland tops EU league table for reducing harmful emissions
Figures reveal Scotland's greenhouse gas emissions have fallen by double the European average.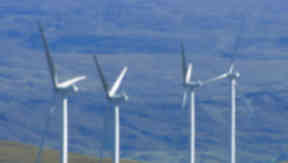 Scotland has topped the European league table for reducing greenhouse gases, figures have revealed.
Between 1990 and 2010, environmentally harmful emissions in Scotland fell by 22.8%, more than any EU member state and double the European average of 14.3%.
Minister for environment and climate change Paul Wheelhouse said the figures showed Scotland was on track to meet targets of a 42% reduction in emissions by 2020 and called on other governments to follow the country's lead.
The minister is now preparing to take part in climate change talks at a conference in Doha, Qatar, this week with ministers from almost 200 countries.
He said: "Scotland has world-leading climate change legislation, and we are half way to meeting our 2020 target.
"We are committed to taking strong action to deliver emissions reductions and the fact that Scotland tops the EU-15 countries for emissions reduction, ahead of Germany, Denmark and England - and significantly higher than the EU-27 countries average of 14.3% - is testament to our level of ambition and the work that has been undertaken so far.
"This shows exactly what can be achieved with strong political commitment, ground breaking legislation and a comprehensive framework for action. Our commitment to Scotland's low carbon future has provided certainty and is delivering jobs and investment across Scotland."
However, Mr Wheelhouse warned, "worldwide action is necessary and that is what I will be pressing for in Doha. I want to see more action and higher levels of ambition across the world and I hope that other countries will be encouraged to match Scotland's level of ambition."
Dr Richard Dixon, director of WWF Scotland said: "Scotland has made good progress on reducing emissions over the last two decades but much of this has been because of structural changes in the economy.
"The Scottish Government needs to more actively manage emissions downwards to meet the targets over the coming decades. Reducing emissions is an opportunity to create jobs and stimulate the green economy.
"We have a Climate Act we can be very proud of but we need to deliver on it to make it credible."