Nationalists deny plans to merge local councils and health boards
SNP accused of 'power grabbing' after Kenny MacAskill said council numbers were 'not tenable'.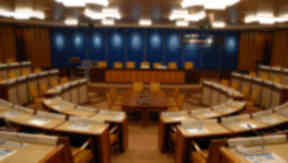 The SNP has been accused of "power grabbing" after Justice Secretary Kenny MacAskill reportedly said that the number of councils and health boards in Scotland is untenable.
But the Scottish Government denied it planned to merge any councils, saying it favours "closer service integration" and not structural reorganisation of public services.
The row comes after Mr MacAskill was asked at a police conference if it is right that Scotland should move to one police force but continue to have 32 local authorities and 14 health boards.
He replied that it was "not tenable" in the police and "it's not going to be tenable in other forms of public life", the Scotland on Sunday reported.
A spokesman for the Scottish Government said: "Our approach to reforming Scotland's public services involves all relevant partners working across organisational boundaries to deliver services which best meet people's needs.
"This does not rely on wholesale structural reorganisation. It is about ensuring services are consistently well designed and delivered by the right people to the right people.
"We are in favour of closer service integration where this will improve outcomes for local people and ensure longer term financial sustainability.
"Health boards are encouraged to work with each other where appropriate. For example, we are already working to fully integrate adult health and social care in Scotland and much of the NHS procurement contracts are negotiated on a national basis. We have no plans to merge local authorities."
But opposition parties called for the SNP to "come clean" about its plans for local government.
Willie Rennie, Scottish Liberal Democrat leader, said: "The SNP's vice-like grip on their message means that Kenny MacAskill would not have been permitted to talk about council mergers without approval from on high.
"This reveals that the SNP have a desire to centralise power.
"Fiddling with boundaries doesn't address the major challenges of climate change, demographic changes and big pockets of poverty. The SNP need to rule out mergers and centralisation and focus on the major challenges that Scotland faces."
Labour's Sarah Boyack said: "This looks like another power grab by the SNP. We know Scotland's local authorities are under huge financial pressure following the decision by the SNP Government to target 83% of its cuts at them.
"Labour-led local authorities are doing their best to use scarce resources to protect frontline services and deliver local accountability at a time when people are struggling in these tough economic times. But the SNP's underfunded council tax freeze has seen thousands of jobs go across Scotland.
"Now Kenny MacAskill has let the cat out of the bag. The SNP has to come clean about its plans for local government and how they will deal with the consequences of their choices."