Prescription charges 'will be scrapped'
UPDATE: Nicola Sturgeon also calls on Scottish health boards to reduce senior management numbers by 25% over the next four years.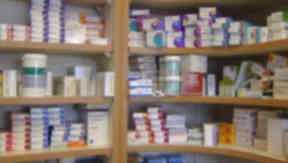 The Scottish Government will press ahead with plans to scrap prescription charges entirely, health secretary Nicola Sturgeon has confirmed.
She said cost cannot be seen as a "barrier" to healthcare, as drastic cuts loom in public spending.
In a statement ahead of her speech to the SNP conference on Saturday afternoon, Ms Sturgeon said: "I can confirm today that in April next year, as promised, prescription charges will be abolished."
However, the announcement sparked protests south of the border over disparities with treatment for English patients.
The Nationalist administration has been gradually reducing the cost of prescription charges since coming to power three years ago, with a view to axing the charge altogether.
The cost of a single item prescription has come down from £6.85 when the SNP took power in 2007 to £3 this year. That compares with £7.20 paid by patients in England for each prescription.
The Independent Budget Review Group - which was set up by the Scottish Government - has called on ministers to consider suspending the final stage of the abolition of the charge.
Finance secretary John Swinney has also warned that the Scottish budget is expected to fall by £1.1bn next year, as part of drastic cuts to UK spending being announced by Chancellor George Osborne next week.
But Ms Sturgeon said: "There are around 600,000 adults living in families in Scotland with an annual income of less than £16,000 who are not entitled to free prescriptions.
"The prescription charge is a tax on ill health that Scotland's poorest families can ill afford."
Conservative health spokesman Murdo Fraser said axing the charges would cost "millions of pounds which would be better spent in providing more health visitors, protecting front line jobs or more life saving drugs".
He added: "The young, the old and the seriously ill quite rightly already don't pay, so if it comes to a choice between free prescriptions for the rich or better health for all, the Conservatives are on the side of the many, not the few."
Labour also questioned the Government's decision to abolish the charge, with health spokeswoman Jackie Baillie saying "We need to seriously consider if this is the right priority at this time."
The proposed abolition of the charges will have to be passed by a vote in Parliament.
Elsewhere in her speech, Ms Sturgeon called on Scottish health boards to reduce senior management numbers by 25% over the next four years in order to introduce greater efficiencies across the health service.
She also announced that the Cardiac Assessment of Young Athletes programme - a scheme that offers youngsters a series of tests to determine whether they are at increased risk of sudden cardiac death - is to receive additional funding of £150,000 to allow it to run for a further two years.