Leveson: Scottish ministers to debate recommendations next week
Lord Justice Leveson's report into press standards will be released after eight months of evidence.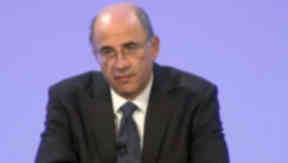 The Scottish Government will debate the Leveson report into press standards next week.
Lord Justice Leveson's long-awaited report will be published on Thursday. The 2000-page document is due to be unveiled at 1.30pm, with the judge widely expected to suggest a new newspaper regulator underpinned by law.
Press regulation is a devolved issue and a debate has been scheduled for the Scottish Parliament next week.
David Cameron set up the Leveson Inquiry in July last year in response to revelations the News of the World commissioned a private detective to hack murdered schoolgirl Milly Dowler's phone after she disappeared in 2002.
The probe, set to cost around £6m overall, heard eight months of evidence from celebrities, media figures, politicians and the police.
On Wednesday, the Prime Minister pledged to seek cross-party consensus on a new regulatory system, but faces an uphill struggle to overcome deep divisions in the coalition and among his own MPs.
Mr Cameron is due to respond to the report in the Commons but the Liberal Democrats have already suggested Nick Clegg could make a separate statement.
The Deputy Prime Minister is reportedly ready to support the rapid creation of a regulator with statutory underpinning, a move that would be opposed by many Tories, and Mr Cameron is thought to be resisting.
Asked about press regulation as he took questions in the Commons, Mr Cameron said: "This Government set up Leveson because of unacceptable practices in parts of the media and because of a failed regulatory system.
"I think we should try and work across party lines on this issue, it is right to meet with other party leaders about this issue and I will do so.
"What matters most I believe is that we end up with an independent regulatory system that can deliver and in which the public have confidence.
"One of the key things that the Leveson Inquiry is trying to get to the bottom of is how can you have a strong, independent regulatory system so you don't have to wait for the wheels of the criminal justice system or the libel system to work.
"People should be able to rely on a good regulatory system as well to get the sort of redress they want, whether that is prominent apologies or fines for newspapers or the other things that are clearly so necessary."