Call for in-car smoking ban consultation
Anti-smoking charity wants consultation as part of strategy to improve Scotland's health.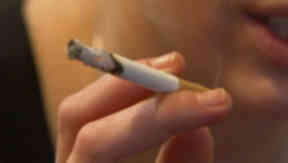 An anti-smoking charity has called for a consultation on banning smoking in vehicles as part of a strategy to tackle "Scotland's biggest killer".
The proposal is one of 33 recommendations in the "ambitious, radical and far-reaching" document "Beyond Smoke Free" from Ash Scotland which sets out a new Scottish tobacco control strategy.
The aims outlined in the document include reducing the number of young people who start smoking, helping people quit and reducing exposure to second-hand smoke.
Ash Scotland said the country has taken major steps to reduce smoking in the last six years, but that much more needs to be done. It said that smoking remains Scotland's biggest preventable killer, with a quarter of all adult deaths attributable to smoking-related diseases.
The habit costs the Scottish economy £837m each year and the NHS in Scotland more than £409m each year.
Ash Scotland chief executive Sheila Duffy said: "Beyond Smoke-free is ambitious, radical and far-reaching. It contains robust yet achievable recommendations.
"To truly tackle tobacco which is a uniquely addictive and lethal product, ambition, vision and innovation is needed.
"Not everyone will agree with every single recommendation but I hope it will provoke debate about what more we need to do and how best we can use our resources to tackle Scotland's biggest killer."
The document calls for a consultation on introducing legislation to ban smoking in vehicles and the development of "robust" targets to reduce second-hand smoke exposure in the home and in vehicles.
Ms Duffy said: "Ash Scotland firmly believes action is needed. Not legislation in this case, but we need awareness campaigns about the impacts of smoking on children's health, we need to ensure health professionals can help parents find ways of reducing these impacts, and we need to engage the public in debating how best we can protect our children from the harm caused by second-hand smoke."
Other proposals in the document include calling for a UK law to require standardised, unbranded packaging of tobacco products and
encouraging the UK Government to increase tobacco industry accountability.
A Scottish Government spokeswoman said: "Since devolution, national tobacco control programmes, including the introduction of the smoking ban in March 2006 and raising the age of purchase of tobacco from 16 to 18, have resulted in a shift in the cultural acceptability of smoking in Scotland.
"We are committed to stopping people - particularly young people - from starting to smoke in the first place.  We will continue to help smokers to quit through the delivery of smoking cessation services that help individuals manage their own health and change their behaviour.
"While there are currently no plans to extend the smoke-free laws to private cars, the Scottish Government is conscious that private cars are now one of the main places for exposure of children to second-hand smoke. In conjunction with our health improvement partners we are continuing to do all we can to highlight the risks posed by second-hand smoke."