Ice warning for Scotland as temperatures expected to plummet to -8C
Motorists have been warned of difficult travel conditions as more snow is expected.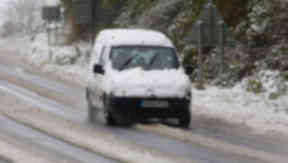 Forecasters have warned of icy conditions for much of Scotland for Tuesday.
The Met Office issued a yellow "be aware" warning of ice on Tuesday and said the public should be aware of the likelihood of difficult travel conditions.
Temperatures plummeted overnight which resulted in icy stretches forming on untreated surfaces.
In Dumfries and Galloway a man was airlifted to hospital after a crash involving a livestock carrier and a car. The collision happened at around 7.20am on Tuesday on the B723 at Longmoor near Hoddom.
In another crash in Bathgate, in West Lothian, a man had to be cut free and taken to hospital. He was treated for minor injuries after the crash at around 6.10am on Tuesday.
Scotland experienced its first widespread snowfall of winter on Monday but disruption on the main transport network was kept to a minimum.
However the winter weather is expected to continue with temperatures as low as -8C expected in some parts of Scotland for later in the week.
STV weatherman Sean Batty warned that more snow is to come. He said: "Cold air is set to sweep south over Tuesday with heavy snow showers across the north and north east by Tuesday evening.
"The snow will continue to come in over these areas during Wednesday while other areas become mainly dry and bright but still chilly."
He added: "Very wintry weather can be expected by the end of the week with a band of rain, sleet and snow spreading in from the west on Thursday. Much of this will fall as snow, especially on high levels where significant levels of snow can be expected."
Roads were closed in the Grampian area on Tuesday including the B974 Banchory to Fettercairn road in Aberdeenshire and in Moray the A939 Cock Bridge to Tomintoul road.
Grampian Police said the force had responded to 77 road accidents, including two fatal crashes, since snow started to fall in the north east on Friday. The number of accidents is double the average reported at this time of year, the force said.
Northern Constabulary also warned motorists to take care due to ice on roads and more snow due to fall on higher routes during Tuesday and Wednesday.
Transport Scotland said it would respond to any major problems.
A Scottish Government spokesman said: "The Scottish Government's Resilience Room and Transport Scotland's multi-agency response team both stand ready to co-ordinate activity across the network and address any wider severe weather impacts should conditions later this week require a national response.
"We are continuing to closely monitor the situation, particularly in relation to key areas of transport, utilities and flooding."