Scotland warned to 'be prepared' as heavy snow and sleet forecast
Transport minister Keith Brown said the M8 is expected to be hit particularly hard on Thursday.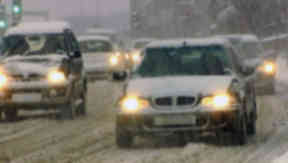 Scotland has been warned to 'be prepared' for heavy snow and sleet.
The Met Office has warned of snow for Glasgow and the West during Thursday morning. Forecasters said there could be disruption on the M8 corridor.
Amber "be prepared" warnings for snow are in place for the Highlands, Central, Tayside, Fife, Strathclyde and Grampian from 11am on Thursday, and yellow "be aware" alerts for snow in Orkney, Shetland and Lothian and Borders.
Transport Minister Keith Brown warned the weather could present the biggest winter challenge so far with the M8 expected to be hit particularly hard.
Areas above 200m (650ft) are expected to have five centimetres of snow and above 300m (1000ft) there will be around 15cm.
Grampian Police said on Thursday that most routes were open but warned motorists to take extreme care due to ice.
Snow gates remain closed on the A939 at Tomintoul, Cockbridge and between Corgaff and the Lecht ski centre, as well as on the B974 from Banchory to Fettercairn.
In Aberdeenshire Towie School was closed and Ellon Primary was partially closed to pupils. School transport was also not running to a number of schools.
STV's weatherman Sean Batty said snow would be sweeping across the country on Thursday morning.
He said: "On Thursday morning there is a possibility of some snow in lower areas but this should turn back to rain fairly quickly.
"There will be a significant amount of snow up over higher ground. The worse hit areas are high ground of the western Highland and particularly Argyll and Stirlingshire, leading to snow gate closures on higher ground and extremely tricky driving conditions.
"Snow could also effect higher parts of the M8 on Thursday morning with very poor visibility making driving conditions extremely tricky for rush hour."
Mr Brown said the multi-agency response team will monitor the morning rush-hour travel and offer help.
He said: "So far this week the network and the public have coped well with some testing conditions. However, this severe weather warning suggests that tomorrow morning promises to be the biggest challenge of the winter to date.
"We would remind motorists and the travelling public to be aware of the potential dangers of snow and icy conditions. An added risk is that fresh snow could fall on hard-packed ice and already-treacherous surfaces, so keep up to date with live travel information and advice for preparing for and driving in testing conditions.
"The public should be prepared for the risk of significant disruption to travel, especially over the M8 corridor to the east of Glasgow, across Perthshire and over much of inland eastern Scotland."
Speaking on behalf of ACPOS, Deputy Chief Constable Tom Ewing, said: "We have been given a clear indication that a band of sleet and snow will come in from the west to much of central Scotland from the early hours of Thursday.
"The public should be prepared for the risk of significant disruption to travel especially over the M8 corridor to the east of Glasgow, across Perthshire and over much of inland eastern Scotland.
"Anyone who is travelling in these areas should be prepared for possible delays and make sure their vehicle is properly prepared.
The snow will follow a prolonged period of low temperatures and all road users should take care and look out for ice and untreated surfaces."
David Simpson, route managing director of Network Rail Scotland, said: "We're monitoring the weather forecast and deploying our rapid response teams to where the weather is most likely to hit.
"In the past couple of years we've invested heavily in innovative technology such as Nasa-grade insulation to prevent points freezing and snow displacers which prevent snow building up. This will make the network as robust as possible and help us to keep Scotland moving."
Sean Batty said the weekend will see calmer weather with less cold temperatures, which will lead to a thaw.
Your report: If you have information on this or any other story, please let us know. You can send information, pictures to web@stv.tv or call us on 01382 591016.