Report: Independent Scotland should drop sterling to tackle poverty
Researchers argue keeping the pound would limit Scotland's ambitions to fight social exclusion.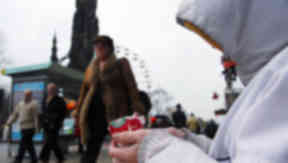 An independent Scotland would need to drop sterling in order to effectively tackle poverty, according to a think tank.
A report from the Scotland Institute said that retaining the pound would leave an independent Scotland tied to UK economic policy and limit its ability to tackle social exclusion.
Researchers concluded that Scotland "cannot afford to leave key areas such as monetary policy to Westminster".
The report advises MSPs to pursue greater devolution for specific Scottish policies for Scottish problems, and to ensure that it retains a degree of influence over Westminster policy-making.
Author Dr Roger Cox warned that if an independent Scotland retained sterling "the policies necessary to prevent social exclusion in Scotland are unlikely to be developed".
The report found that the UK has a higher proportion of young people leaving education with no or limited qualifications than is the norm in the rest of the OECD (Organisation for Economic Co-operation and Development) countries, overwhelmingly from poor areas.
This contributes to the 10% to 25% lower productivity per hour in the UK compared with European countries such as France and Germany, it stated.
Dr Cox argues that the problem has worsened as a result of coalition cuts, and cautioned that thinking poverty is caused by people's "attitude" has clouded the debate.
Deprived
The report found that a quarter of Scottish babies are born in deprived areas, with babies born in working-class homes twice as likely to die within their first year as those born into better-off families.
Director of Barnardo's Scotland Martin Crewe said: "No child should be set on to a pre-determined path to poverty and the dire consequences that can come with it simply because of their parentage."
A Scottish Government spokesman said: "The UK's current system of Government has failed to tackle poverty in Scotland.
"This Scottish Government is determined to do all we can to improve the life chances of all our citizens with our current devolved powers. But the main levers we need to provide an economic stimulus to our country's economy, and ensure social justice for the people of Scotland, such as powers over taxation, spending and borrowing remain with Westminster, where successive Governments have failed to take decisive action.
"An independent Scotland with full powers of welfare will be able to develop a fair system that addresses Scottish circumstances, in line with the needs and values of our people."
But Labour justice spokesman Drew Smith argued: "This blows a gaping hole in Nicola Sturgeon's argument that we can only achieve social justice in Scotland through breaking up Britain and highlights the flaws in the SNP's hopes for a so-called sterling-zone.
"It simply doesn't make sense to leave monetary policy in the hands of a foreign country which you have no power or influence over and those of us who believe in social justice know that independence on these terms will only set us further back.
"We know that poverty and inequality isn't created by a border at Gretna and it is just dishonest to claim that the problems which we face now will disappear once Alex Salmond and Nicola Sturgeon liberate us."