ScotRail workers to strike on Christmas Eve in sacking dispute
The action was announced by the Rail, Maritime and Transport union for December 24.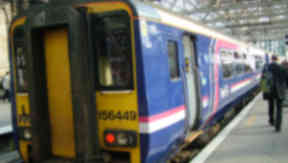 ScotRail workers have announced they will strike on Christmas Eve and the last shopping weekend of the festive season.
The Rail, Maritime and Transport (RMT) union warned of "massive disruption" to services because of the two 24-hour walk outs.
Union members are taking the action is in relation to a dispute over the sacking of train conductor Scott Lewis, who was dismissed for allegedly making "unwanted contact" with a passenger.
The union said the strike would take place on December 22, the Saturday before Christmas, and on Christmas Eve.
Union members on the firm's sleeper services will also strike for 24 hours from the evening of December 21 and again from the evening of December 23.
A ballot last month voted in favour of strike action, but the dispute remain unresolved.
General secretary Bob Crow called for immediate reinstatement of Mr Lewis, adding: "Scott Lewis has been victimised and sacked for trying to help a passenger within the written procedures set out in ScotRail's own policies in what is an absolute travesty of justice.
"RMT members will not sit back and watch while their colleagues are picked off in this fashion by a management who think that they can fire staff without a single shred of evidence to support their case, and that is why RMT had no choice but to announce this programme of action."
In response to the announcement of strike action, ScotRail tweeted from its official account that it was "extremely disappointed" and it would be "inconveniencing customers at such an important time".
'Clear attack'
ScotRail said the dates were a "clear attack" on the travelling public across Scotland at Christmas, as well as shoppers and people heading home from England. The firm warned that the action was designed to extend disruption over four days by targeting Caledonian Sleepers to and from London on the weekend before Christmas as well as services in Scotland on Christmas Eve.
A spokesman added: "This reeks of selfishness, designed to give those on strike extra time off and full wages while having the maximum impact on the travelling public in the run-up to Christmas.
"It also appears mercenary and opportunistic to choose times when families and friends will be travelling for festive reunions and many other people, including staff in hospitals and shops, still have to get to and from work.
"The union should immediately call a halt to this cynically timed and unjustified strike, especially when only 24% of its members voted for such action. Our customers come first, and we have contingency plans in place to run as many services as possible over the dates which cover one of the busiest days for last-minute Christmas shopping and key times for travel to be with family and friends.
"We will also ensure that all Sleeper ticket holders get home for Christmas. If anyone believes the conduct towards a customer, who was reduced to tears, is acceptable - let alone worthy of a strike - then they are in the wrong job. The ticket examiner also had a complete disregard of correct ticket procedures."
The rail company said that Mr Lewis had been sacked for "grounds of intimidating and aggressive behaviour towards a passenger, who was reduced to tears during the incident." ScotRail claim Mr Lewis refused to accept the customer was allowed free rail travel from an airport under a "longstanding, well-known arrangement."